Black farmers collect $1.2 billion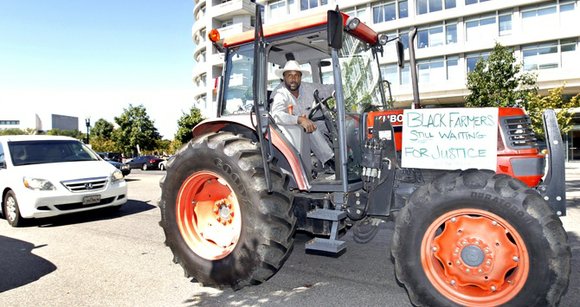 WASHINGTON (NNPA) – For decades, Black farmers fought the United States Department of Agriculture over racial discrimination. The farmers, mostly in the South, lost crops, their farms and their homes. Some farmers grew old and died waiting for the slow hand of justice to turn in their favor, but those that still toil in the fields can proclaim victory, the government has finally started cutting checks in the $1.2 billion settlement case known as "Pigford II."
Tim Pigford, a corn and soybean farmer from southeastern North Carolina, said that USDA officials denied his loan application because he was Black. He even testified before Congress in 1984. By 1998, what became known as the Pigford's case evolved into a class action racial discrimination lawsuit that included Black farmers who were denied loans and other federal aid from the government from 1981 to 1996. The government settled the case in 1999.
Pigford eventually backed out of the landmark case that bears his name and was awarded a separate individual payout.
"Pigford II" included Black farmers who missed the filing deadline, but also suffered hardships in receiving aid from the USDA. The farmers, roughly 18,000 of them, will each receive $50,000 plus an additional $12,500 for debt associated with federal taxes.
The judgment is the largest civil rights settlement in United States history.
Even as some advocates for Black farmers declared victory in the case, most agree that the settlement payments won't go far enough to make up for the wholesale devastation of rural Black communities and the loss of land ownership at the hands of government officials.
"For many Black farmers, the settlement is not going to buy them a new farm with new equipment and put them back into business. That's not what it's going to do," said John Boyd, president of the National Black Farmers Association.
Boyd said, for an elderly Black farmer over 65 years old, the settlement would make the coming years a little more comfortable, pay some bills or help grandkids with college tuition.
Boyd, who has advocated for Black farmers for nearly 30 years, added: "The settlement was never designed to make us completely whole. I don't know if you can put a dollar figure on that."
Still, Boyd said the settlement was a big victory for Black farmers and a big victory for Black people.
Boyd said at times he wanted to give up and that he heard "no" so many times he began to think of "no's" as "maybes."
When Boyd wanted to give up, he remembered the pain and suffering carved into the faces of Black farmers that he met and tried to help over the years. Many of them had worse stories than his own encounter with a county supervisor that he said spit on him after denying him a loan.
"That's what kept me going; it was the faces, it was the stories, it was the pain and suffering, it was all the land that was lost," Boyd said.
According to the USDA, Black farm ownership peaked in 1920 at 925,710. By 1982, the number of Black-owned farms had plummeted to 33,250. A 1998 USDA report found that, "The decline of the African American farmer has taken place at a rate that is three times that of white farmers."