Black farmers collect $1.2 billion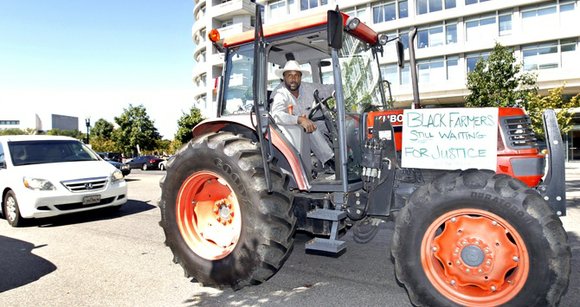 Since 1920, nearly 12 million acres has slipped from the hands of Black farmers.
The United States Commission on Civil Rights found that the Farmers Home Administration, "may have hindered the efforts of black small farm operators to remain a viable force in agriculture" and that the USDA and FHA failed to "provide equal opportunities in farm credit programs."
Critics have charged that the Pigford settlement and claims process is rife with fraud, and that some who alleged discrimination never attempted to farm or receive loan assistance from the USDA. But Boyd said that those allegations are an insult to Black farmers.
"We made the South what it is, we made this country what it is. We made cotton king," said Boyd. "… If that Black farmer or Black land owner felt that they were discriminated against by the government, they deserved a right to go through that process. I didn't say everybody deserved a check. I never said that."
Gary Grant, head of the Black Farmers and Agriculturalists Association, said that from 1981-1996, Black farmers in North Carolina lost nearly 300,000 acres totaling $1.2 billion in lost assets in North Carolina alone.
"Fifty thousand dollars to a farmer is not a lot of money," Grant said.
Farmers didn't get their land back, they didn't get their equipment back, they didn't get their homes back, and Grant said, that tax-burdens often put Black farmers in worse shape than they were in before the settlement.
In a press statement on the Pigford II settlement payments, Congressional Black Caucus Chair Marcia Fudge, D-Ohio, said: "The Pigford I and II class action lawsuits attempted to address a history of discrimination by the Department of Agriculture. Between 1983 and 1997, thousands of African American famers were denied loans solely because of their race. These discriminatory practices resulted in severe economic consequences for farmers, often preventing them from maintaining and keeping their farms."
Fudge continued: "Nearly 14 years after the first Pigford case was filed, I am pleased this chapter of discrimination in the history of the Department of Agriculture is closed and bureaucracy will no longer keep these farmers from receiving their due justice."
Some argue, however, that the chapter is still open and Black farmers face extinction if they don't continue to fight.
Even as the settlement checks go out, the future of Black farming looks grim. Black farmers are counting on a youth infusion to revitalize industry.
"Nothing has changed at the USDA, despite the settlement," said Grant, who still doesn't trust the USDA. "We can't leave it alone."
Grant added: "This country has destroyed a way of life – family farming and that doesn't matter if you're Black or White – and devastated Black communities by the destruction of the agricultural plain, which was the economic engine in rural society."
Grant acknowledged that sharecropping memories still haunt Southern Blacks, because it was such a painful part of our history. But he maintains that Black farmers sent their children off to college and forgot to teach them about the power of land ownership. That was a mistake.
Boyd said that the Black community needs to improve awareness of the value of land ownership.
"A landless culture is a powerless culture. If you don't have any land, you don't have any power in this country," Boyd. said
Boyd added: "If you can buy a new Cadillac or a new Mercedes Benz, you can also afford five acres in the country. Whatever you need to do in this [nation], if you have land, you can get it done."