Sen. Booker wins Senate, defeats former Mayor Lonegan
Glenn Townes | 10/24/2013, 4 p.m.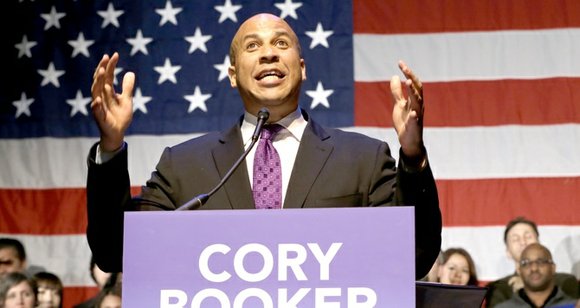 The New York Amsterdam News
(NNPA) – In what many expected, Newark Mayor Cory Booker nabbed the coveted U.S. Senate seat in a hotly contested race against Republican hopeful Steve Lonegan at a special election on Wednesday in New Jersey. Booker became the first African American elected to the U.S. Senate since President Barack Obama.
Booker, 44, made his acceptance speech just two hours after polling centers across the state closed and put the new senator-elect with more than 56 percent of the vote – with about 75 percent of all precincts reporting. Booker eventually garnered about 710,000 votes, or about 55 percent, compared to Lonegan's 579,000, or about 44 percent, with nearly all precincts reported. He will fill the vacant Senate seat of longtime politico Frank Lautenberg, who passed away earlier this year.
Delivering a fire and brimstone acceptance speech to a standing room audience at his election campaign headquarters at NJPAC Center in Newark, the gregarious, charismatic and outgoing mayor paid homage to his modest beginnings, paid tribute to his father, Cary, who passed away last week, and hinted about some of his plans as the Garden State's newest senator in Washington.
"I will join Sen. Menendez in moving the people of New Jersey ahead," he said. "But make no mistake, we have work to do!" The mantra of "work to do" has long been a staple in dozens of Booker's speeches.
Lonegan conceded defeat in a telephone call to the Booker camp. In a brief concession speech at Lonegan headquarters at the Marriott hotel in Bridgewater, the former mayor of the small town of Bogota said he will move into the private sector and acknowledged his supporters – including Gov. Chris Christie. Throughout the campaign, Christie was criticized by members of the Lonegan camp for not being more vocal and participatory in the Republican's Senate bid.
"Outside of running along the street placing campaign signs, I don't know what else the governor could have done to help my campaign," he said.
Lastly, once the election results are certified, Booker could be sworn in as senator within the next 30 days. Newark City Council President Luis Quintana is expected to be appointed interim mayor once Booker departs for Washington.