The state of Lancaster schools
We are headed in the right direction
Michael McGee | 10/24/2013, 3:37 p.m. | Updated on 10/25/2013, 8:16 p.m.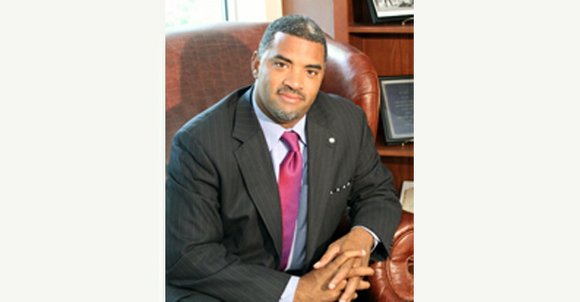 The Dallas Examiner
Lancaster ISD Superintendent Dr. Michael McFarland presented the Lancaster ISD State of Schools report at the Lancaster Area Chamber of Commerce monthly luncheon, held Oct. 10 at the Lancaster Recreation Center Grand Hall. Other Lancaster ISD leaders at the event also spoke about the accomplishments their district has achieved in a relatively short period of time.
McFarland, superintendent since May 2010, demonstrated in his remarks that the motto of Lancaster ISD, "More Than a Diploma," was itself more than just a catchy phrase from the school district's website.
"When you look at where we were and you're able to look now at the direction we're headed, then what you can realize is that there were a lot of good people here, before, when I got here," McFarland said. "But what we were able to do was pull people together, and start leveraging resources of outside entities as well as people internally. We had to put people in the right positions, the right people on the bus, and get going in the right direction."
In the last three years, the number of Lancaster high school students who have earned diplomas and received acceptance letters from colleges, universities, the military or trade schools is at 90 percent, according to statistics published by the Lancaster ISD. In a school system that has one of the largest African American student bodies in the state, the superintendent said that this percentage is the highest of all the districts out of the 11 cities that make up the Best Southwest partnership.
"I could get up here and I could preach to you and give you all the statistics …" McFarland told the audience as he emphasized that the credit for the positives trends for the LISD was not his doing, but the fruits of a collaborative effort. "I can sum it up real quick – real quick. Everything, as far as our measures, is going up and to the right. That's a good thing. You know, people want to be better, and are willing to work and are headed in that direction, then we feel like we can get there."
Ty Jones, Lancaster ISD Board president, was asked if there was a single event or report that informed him that the LISD was succeeding in its efforts to cultivate a better environment for learning. In response, he indicated that it was more of an overall, ongoing tide of accomplishment that told him the board was doing the right things. It is a movement that Jones wants to see continue.
"I think the main thing is collaboration with our components," he said. "Our central administration, the school board, and just making sure we have our goals in place and respecting those goals."
Assistant Superintendent Dr. Helena Mosely also addressed the changes in the district under McFarland's stewardship.
"I think that as we have had an opportunity to further examine what kind of readiness skills our students need for the future then we've been able to craft and change what we are teaching them in preparation."