U.S. government reopens, avoids default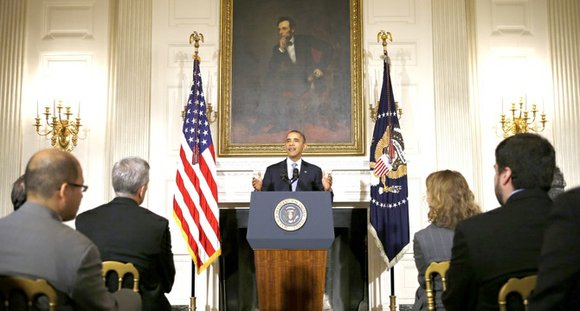 WASHINGTON – President Barack Obama signed a bill into law early in the morning on Oct. 16 that ended the 16-day government shutdown and averted an impending financial crisis by raising the debt ceiling.
After Obama and Democrats defeated repeated efforts over the two-week period by House Republicans to repeal the Affordable Care Act, the president's signature health care achievement, the Senate passed the budget measure Wednesday night by a vote of 81-18 followed several hours later by a 285-144 vote in the Republican-controlled House. In the House, 87 Republicans joined the solidly united Democrats to assure the victory. All of the "no" votes in both chambers were cast by Republicans.
The Continuing Appropriations Act 2014 is retroactive to Oct. 1, the beginning of the new fiscal year, and funds the government through Jan. 15, 2014. The debt limit has been extended through Feb. 7, 2014.
Obama signed the bill around 12:30 a.m., which set the stage for Thursday's reopening of the nation's parks and monuments, returning furloughed federal employees to work and restoring shutdown government services.
Shortly before 1 a.m. Thursday, the Office of Management and Budget issued a formal memorandum ordering federal agencies to reopen.
"Today, the President signed a continuing resolution that brings employees back to work and reopens many government functions," OMB Director Sylvia Mathews Burwell said in the memo addressed to all heads of executive departments and agencies.
"All employees who were on furlough due to the absence of appropriations may now return to work. You should re-open offices in a prompt and orderly manner."
Although ending the shutdown was a clear victory for Obama, he struck a conciliatory tone.
"I've said it before, I'll say it again: I am willing to work with anybody, I am eager to work with anybody – Democrat or Republican, House or Senate members – on any idea that will grow our economy, create new jobs, strengthen the middle class and get our fiscal house in order for the long term," Obama said in a brief, oddly timed White House appearance Wednesday night between the Senate and House voting. "I've never believed that Democrats have a monopoly on good ideas. And despite the differences over the issue of shutting down our government, I'm convinced that Democrats and Republicans can work together to make progress for America."
Obama, speaking at the White House Thursday morning, said: "Now, there's been a lot of discussion lately of the politics of this shutdown. But let's be clear: There are no winners here. These last few weeks have inflicted completely unnecessary damage on our economy. We don't know yet the full scope of the damage, but every analyst out there believes it slowed our growth."
The president said, "But to all my friends in Congress, understand that how business is done in this town has to change. Because we've all got a lot of work to do on behalf of the American people – and that includes the hard work of regaining their trust. Our system of self-government doesn't function without it. And now that the government is reopened, and this threat to our economy is removed, all of us need to stop focusing on the lobbyists and the bloggers and the talking heads on radio and the professional activists who profit from conflict, and focus on what the majority of Americans sent us here to do, and that's grow this economy; create good jobs; strengthen the middle class; educate our kids; lay the foundation for broad-based prosperity and get our fiscal house in order for the long haul. That's why we're here. That should be our focus."