U.S. government reopens, avoids default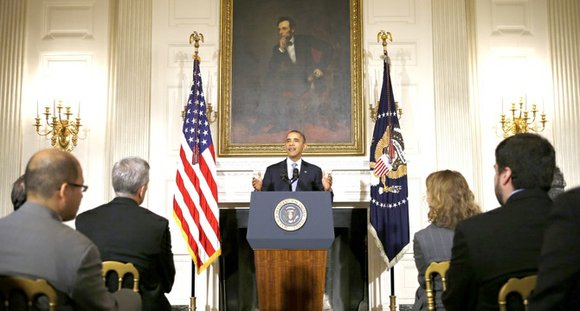 To returning workers, Obama said, "Thank you. Thanks for your service. Welcome back. What you do is important. It matters."
Regardless of whether Obama wants to publicly admit it, the vote was an undeniable victory for the White House over tea party activists who shut down the federal government in an unsuccessful attempt to defund the Affordable Care Act, also known as Obamacare.
Kelly Ayotte, R-N.H., said, "If we learn nothing else, I hope we learn we shouldn't get behind a strategy that has no endgame."
The agreement lifts the $16.7 trillion debt limit, allowing the U.S. to pay its bills. Standard & Poor's dropped the U.S. credit rating from AAA to AA+ after the 2011 debt ceiling crisis. Another credit rating agency, Fitch, said earlier in the week that it might follow suit if the U.S. defaulted on its obligations. A third credit rating agency, Moody's, still has the U.S. rated AAA.
The White House made a minor concession by agreeing to require verification of the income of those qualifying for health insurance subsidies.
After Republicans lost their bid to repeal national health legislation, they suffered a series of other setbacks, including a last-ditch proposal that would have eliminated employer contributions for lawmakers and forced the president, vice president and all political appointees to participate in health care exchanges administered by states without a tax subsidy.
"We took some bread crumbs and left an entire meal on the table," Sen. Lindsey Graham, R-S.C., said after the deal was announced. "This has been a really bad two weeks for the Republican Party."
Despite their well-known animus for each other, Senate Majority Leader Harry M. Reid, D-Nev., and Minority Leader Mitch McConnell, R-Ky., reached a last-minute deal Wednesday that ended the impasse. They announced their agreement Wednesday afternoon on the Senate floor.
"After weeks spent facing off across a partisan divide that often seemed too wide to cross, our country came to the brink of disaster," Reid said. "What we've done is send a message to Americans … and in addition to that, to the citizens of every country in the world, that the United States lives up to its obligations."
Standing next to Reid in the Senate, McConnell indicated that the nation hasn't seen the last of GOP efforts to eliminate the Affordable Care Act.
"Republicans remain determined to repeal this terrible law," he said. "But for today – for today – the relief we hope is to reopen the government, avoid default and protect the historic cuts we have achieved under the Budget Control Act."
Although the Affordable Care Act was passed by the House and Senate, signed into law by Obama, and upheld by the U.S. Supreme Court, House Republicans have made more than 40 attempts to repeal the landmark legislation – all without success.
The anti-health care movement has been led by doctrinaire tea party activists. But their popularity has taken a beating throughout the standoff.
According to a poll released Wednesday by the Pew Research Center for the People & the Press, "The Tea Party is less popular than ever, with even many Republicans now viewing the movement negatively. Overall, nearly half of the public (49%) has an unfavorable opinion of the Tea Party, while 30% have a favorable opinion."