U.S. government reopens, avoids default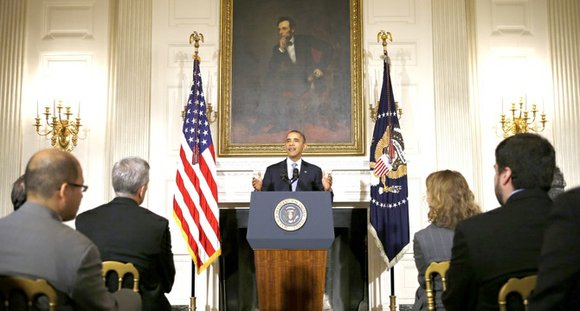 Because Republicans felt that Obama would blink during the latest budget showdown, they had no exit strategy in the event the president did not give-in to their demands. That proved to be a costly miscalculation. What the most rabid wing of the GOP did not realize was that Obama had already decided not to give-in to their threats to shut down the government if they did not get their way.
According to The New York Times, "More than two years ago, President Obama was still in the thick of his previous showdown with Republican House leaders over the nation's debt limit when he called five senior advisers into his office. He did not ask their advice, one said. Rather, he told them, in a way that brooked no discussion: From now on, no more negotiating over legislation so basic and essential to the economy, and the country.
"'I'm not going through this again. It's bad for democracy. It's bad for the presidency,' Mr. Obama said, according to the adviser, who declined to be identified describing internal discussions. The president then told the group – his Treasury secretary, chief Congressional lobbyist, chief economic adviser and both his and the vice president's chiefs of staff – to spread that word, 'even in your body language.'"
In the end, Republicans got the message.
"We've been locked in a fight over here, trying to bring government down to size, trying to do our best to stop Obamacare," House Speaker John Boehner, R-Ohio, told a Cincinnati radio station on Wednesday. "We fought the good fight. We just didn't win."
That doesn't mean they won't win the next fight. Although Obama refused to be steamrolled by tea party antics, he has signaled a willingness to compromise with Republicans, even on issues dear to his Democratic base.
"Keep in mind that the budget that we are going to pass under any deal is going to be the Republican budget. It will have cuts that are much more substantial than Democrats would prefer," Obama said in an interview with WABC on Oct. 15. "The Democrats have not asked for anything to reopen the government. The Democrats haven't asked for anything for paying our bills on time."
And that's part of the problem, according to some Democrats.
"At no point have we said what our demands are. All you've heard was what their demands are," Rep. Gregory W. Meeks, D-N.Y., told Politico. "Maybe we should put down what our demands are of what we need and what we want because there's things that are important and dear to us also, and then the negotiations start from there."