St. Philip's to offer 'grocery store' style food pantry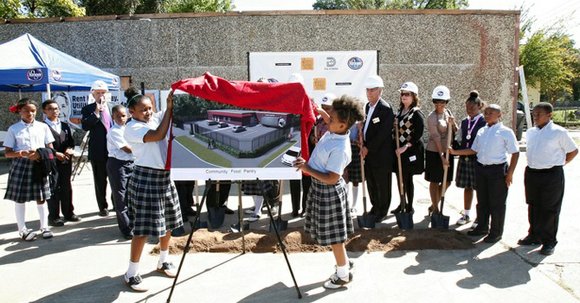 The Dallas Examiner
The St. Philip's School and Community Center has a mission to enhance the lives of children and families in the South Dallas community and throughout Dallas. The school, encased in a low- to moderate-income neighborhood in the Fair Park area, has provided quality education for generations. For the past 30 years, St. Philip's has operated a food pantry to help bring hunger relief to families in South Dallas.
Spearheaded by Councilmember Carolyn R. Davis of District 7 as part of the city's mission to revitalize South Dallas, St. Philip's will now be able to expand its store and expand its food services into a "client choice" food pantry.
On Oct. 17, it hosted a groundbreaking ceremony at 1502 Pennsylvania Ave., directly adjacent to the school. The land was recently donated to the school by the city of Dallas.
Dr. Terry J. Flowers, executive director and headmaster at St. Philip's, said that the new development would bring a needed, positive change to the neighborhood.
"This opportunity allows us to not only increase the amount of service to the community but enhance the caliber of service." He explained that families currently receive a preassembled box of food to take home. With the new "client choice" model of the expanded pantry, residents can select foods that meet the specific needs of their families.
"It also places us in a position where we will be able to extend to the community fresh produce, frozen goods, as well as move to a five- or six-day service model versus a two- or three-day service model that we currently have," he continued.
Describing the current pantry as "cramped and inadequate," Flowers said St. Philip's serves 200 families and is a hub for Meals On Wheels. The expanded facility will open in 2014.
"We'll be able to serve more people, in a more dignified way, and provide additional services," he noted.
Davis credited the partnership of Kroger, The Real Estate Council, and the nonprofit groups In The City For Good and The North Texas Food Bank for being hugely supportive in the success of the endeavor.
"I think this is gonna make a huge, huge difference in that community, especially in that area, and especially since St. Philip's is already doing a community food pantry," she said.
She added that a new measure passed by the City Council helped speed up the project. The seed of the expansion started a year ago, she explained, when Debra Peek-Haynes of Quorum Commercial came to her with an eye on using the existing vacant building on Pennsylvania Avenue for real estate development. The structure had been on the city's foreclosure list for years due to back taxes and liens.
Davis illustrated Hayne's vision, saying "If you can prove that, you're going to do something worthwhile to a particular building … and we have a nonprofit organization like St. Philip's and they want to expand their food pantry, and they want to do something good with this movement, in partnership with In The City For Good. Could we do that?"