Transcending time ...
Michael McGee | 10/30/2013, 6:27 p.m. | Updated on 10/30/2013, 6:27 p.m.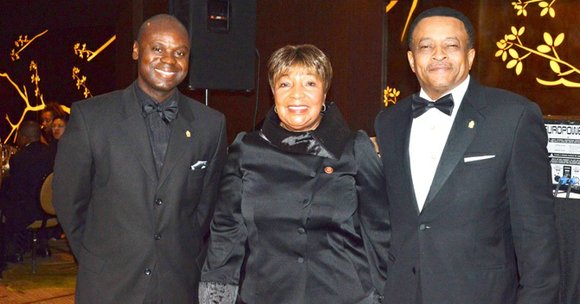 The Dallas Examiner
"We're trying to encourage our young men to grow up and act as productive citizens in our environment, and try to give back in scholarship format," said Jabari Jones, president of the Alpha Sigma Lambda Chapter of the Alpha Phi Alpha fraternity, as he reflected upon the night's theme of "Leadership, Legends and Legacy: Transcending Time …"
Jones spoke during the fraternity's C.C. Russeau Black and Gold Scholarship on Oct. 19 at the Sheraton Hotel at 401 N. Olive St. Building on a task that began in 1932 with the founding of the Alpha Sigma Lambda Chapter, the black-tie event was a night for recognizing the achievements of current members of the fraternity as well as awarding several scholarships to students who are members of APA.
Mentoring is also part of the effort, he said.
Along with the scholarships, the fraternity also presented their 2013 Humanitarian Award to several notable Dallasites for their work towards improving the lives of the citizens of the city.
Those presented with the award were: Eddie Bernice Johnson, congresswoman for the 30th Congressional District of Texas; Helen Giddings, representative for the 109th District in the Texas House of Representatives, and vice-chair of the State Affairs committee; Yvonne Davis, representative for the 111th District in the Texas House of Representatives and vice-chair of the House Redistricting committee; and DeMetris Sampson, managing partner with the office of Linebarger Goggan Blair & Sampson LLP.
Johnson stated that she was pleased to be home, far away from Washington, and praised the assembled leaders of the APA chapter.
"I want to say to the Alpha men that the program you started years ago, that you're raising money for tonight, is as much needed today as it was when you started." She joked to the audience about the legacy of the chapter and her own age, noting that she was great at assisting aspiring Alphas in their joining the brotherhood.
"When I was married to an Alpha man, many of the pledgees would come by and I'd go over the history because I knew it," she stated, drawing laughter from the guests. "I kind of tutored them on what they needed to remember."
Johnson also thanked those in attendance for their backing.
"I would not be in Washington without the support of all of you," she said.
Giddings said that she was "deeply honored and humbled" upon receiving her award at the gala. She commended APA for all of their efforts in creating a pathway of leadership for young men.
"As you know, my son-in-law, as well as my grandson, are both Alphas, so they are continually telling me about the wonderful work that you do," she stated as she mentioned that the aims of the fraternity also reflect her own values.
"I can't do everything, but still, I can do something," Giddings continued, reciting a favorite phrase of hers. "And because I cannot do everything I will not refuse to do the somethings that I can do. If all of us would simply do the 'something' that we can do, the world would be a much better place."