Transcending time ...
Michael McGee | 10/30/2013, 6:27 p.m. | Updated on 10/30/2013, 6:27 p.m.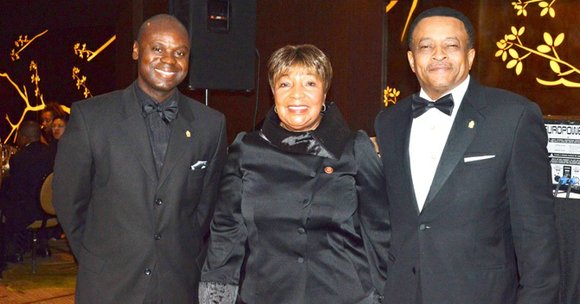 Giddings acknowledged those leaders who came before her, exclaiming, "I'm standing on the shoulders of so many others."
Davis was unable to attend the event due to a death in her family. Patria McKinney accepted the Humanitarian award on her behalf. She spoke about how fitting it was for Davis to be honored with such an accolade.
"I can tell you as an employee and having worked for her for almost 18 years that you couldn't have picked a more deserving person." McKinney went on to describe the passion of her employer, a spirit that she said aligned well with the ideals represented by the gala.
"Only until I started working with Rep. Davis, I never saw a person who had such drive and such tenacity and such fire in working for her people and on behalf of her constituency," she stated.
Sampson rounded out the humanitarian awardees of the evening. A licensed attorney since 1980, she voiced her concern with those assembled about where the country seemed to be headed in light of recent actions in the nation's capital.
"We just got told that the Civil Rights Act, and the Voting Rights Act, is no longer constitutional. And so while we enjoy being here, we enjoy the blessings of liberty, somebody is taking away the blessings of liberty."
Sampson said that the scholarship awards were important for a very significant reason.
"… Because we need some of these folks who are getting these scholarships to go to take the place of some of those folks in D.C.," she stated to enthusiastic applause.
The namesake of the gala, Clarence C. Russeau, was inducted into the Alpha Phi Alpha Southwestern Region Hall of Fame for his 66 years of service to the fraternity. An educator and chairman of the board that owns the Alpha Sigma Lambda property, he shared his feelings about the tribute the organization bestowed upon him.
"My heart is certainly blessed in that very few people, very few, give the praise when you're alive. These brothers have seen fit to do so, and I appreciate it."
Throughout the evening there was gourmet food, a silent auction, and later, dancing. Although no one lost sight of the fun of the gala, the true purpose of the event was never far from anyone's mind. According to literature provided by the Alpha Merit Committee Inc., the Alpha Sigma Lambda Chapter of APA has been able to award more than $85,000 in scholarships to students. Johnson summed up what their efforts mean to her in her closing words of encouragement.
"I want you to know that the work that you're doing to help young men come along is very much needed."