Academic summit unveils innovations for learning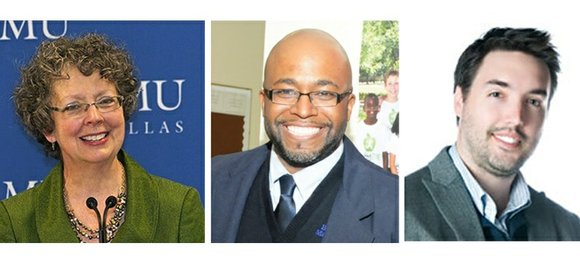 The Dallas Examiner
Nakia Douglas, principal of the Barak Obama Male Leadership Academy, had a straightforward talk regarding young students.
"We have to all be active participants in the education of our youth," he said during the Oak Cliff Chamber of Commerce Annual Education Summit held Aug. 22. "More importantly … not only are we making sure that they have the best opportunities by way of exposure, but we're preparing them for opportunities that they may not even see for themselves at this time."
He was one of three guest speakers for the event.
Speaking on the theme of "Innovations in Public Education," Douglas informed those assembled about the mission of the Obama magnet school. He also illustrated what made it unique from other such schools in the county.
"We have an educational platform where we are educating the leaders in what we're doing in the community, what we're doing to serve our students and, more importantly, how they can get involved," he said as he discussed how vital it was for the audience to hear the positive things going on in the school district.
Getting involved was a concept explored by speaker Regina Nippert, director of the Center of Communities and Education at Southern Methodist University. She spoke about the West Dallas project, a model program SMU created to help explore solutions to issues within the community.
As she explained how improving the neighborhood and improving the schools went hand-in-hand, she asked, "How do we know what the challenges are if we're not connected to the community?"
Part of that connection, she explained, involved SMU purchasing older houses from "slumlords" as part of the project and refurbishing them. The next step was improving the local high school to attract families to move into the redeveloped homes.
To accomplish this, SMU started a new program called The School Zone, which encompasses 10 public schools with Pinkston High School as a main focus. SMU examined data from the best performing schools in the poorest parts of Harlem and discovered that "a shared collaborative strategy" – as Nippert termed it – worked best at assisting failing pupils.
She gave an example of how such a collaboration might work at an individual level.
"If a child is struggling in pre-calculus, homework help is of no help whatsoever. None," Nippert said. "The child doesn't need homework help. Their tutorer … needs to know where on the math scaffold is this kid, and approach that thing.
"If you're trying to do pre-calculus and you missed long division, you're never gonna get it," she explained further. "However, if a student and tutor spend a few days going over long division, then you can do pre-calculus."
Dedicated teachers working with enthusiastic parents coupled with dependable social resources – such as health care – made a major difference in those high-performing Harlem schools, Nippert said. "The idea that we would target our resources to what kids need is a really important one," she mentioned.
The big goal of TSZ is to take the 130 dropouts that Pinkston has every year and turn them into 130 additional graduates. The ultimate aim of both the WD project and TSZ, Nippert said, is for children to have the educational tools they need to exit poverty as adults.