Big Boys to Young Men
Parents of teen boys gain insight, inspiration during conference
Diane Xavier | 9/6/2013, 12:29 p.m. | Updated on 9/6/2013, 1:58 p.m.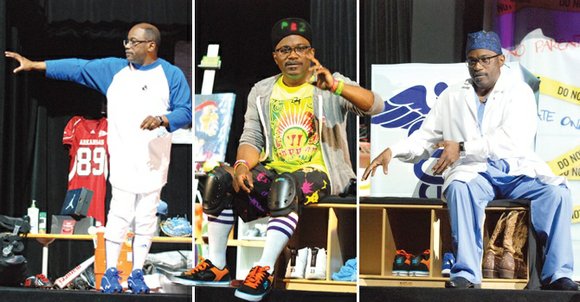 The Dallas Examiner
The teenage years can be one of the most dramatic times a person faces in their lifetime. As young boys make the transition from childhood to manhood, issues such as hormonal changes, self-esteem, self-image, peer pressure, dating and sex can present a challenge to the average teen.
However, according to Pastor Rickie Rush of the Inspiring Body of Christ Church, parents of teenage boys have some of the most difficult tasks to undertake in raising their teenage sons. He said that according to recent studies, the seven-year period that boys become teens from 12 to 19 years old, can be some of the most challenging times for parents.
In order to tackle this concern, Rush hosted a three-day conference called Parents of Teenage Boys Experience, at his church from Aug. 15 to Aug. 17. He said the purpose of the conference is to help parents understand what their teenage boys endure during their teen years. This will enable parents to help their sons thrive and become kings.
"There is an epidemic in our country that we are totally ignoring and that's the effect that the seven-year span of raising teenage boys is having on adults," Rush said. "I felt that it was necessary to at least make parents be aware of what boys are dealing with that they are not saying because of the stress level, the tension, the guilt and the hurt parents endure which sometimes come from trying to raise boys who are going to be men but they have to fight through boyhood like they have fought through the womb to get here."
The conference included seminars, question and answer sessions where no questions was taboo, and plays presented by Rush, who depicted the different challenges teenage boys face in life such as dating, school, grades, peer pressure, and career-choices and vocations.
"I hope that we empowered the parents, inspired them, motivated them, encouraged them, and gave them new fire to let them know that they are doing the right thing by raising the boys to be kings," Rush said.
Michael and Tenecca Humdy attended the conference. They have a 17-year-old teenage son and said they came to the conference to gain understanding in raising their son.
"We wanted to know the experience behind what teenage boys are thinking," Tenecca said. "We learned that teenagers can have emotions, they can go through depression, and we also learned the different types of stages they can go through as far as how they dress, how they act, and the things they do to please their parents."
Michael was surprised at how times have changed since he was a teen himself.
"It's a different time and era and things are not about playing just sports anymore," he said. "Teenagers today are dealing with something different. I raised my teenage son on what I was dealing with when I was growing up. One thing that came out of this conference that I didn't think about was the access to information teenagers have now. They have iPods, cellphones and social media. They can gain information such as fights that happen which can be recorded and put on social media instantly throughout the whole world. You really have to think differently to raise a child nowadays because of social media. It was eye-opening."