Big Boys to Young Men
Parents of teen boys gain insight, inspiration during conference
Diane Xavier | 9/6/2013, 12:29 p.m. | Updated on 9/6/2013, 1:58 p.m.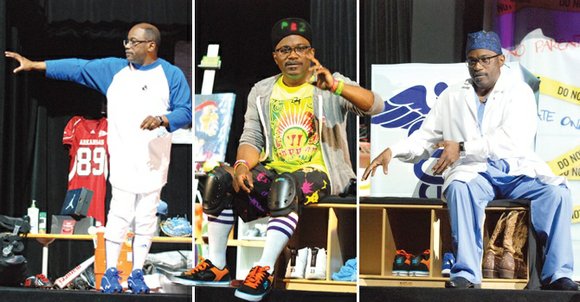 Rush encouraged parents to set positive examples for their children and always be there for them no matter what.
The positive messages from the conference made an impact on participant LaToya Mays, a mother to a teenage boy.
"I prayed to the Lord for some kind of help last year since my son was about to turn into a teenager and this conference was an answer to my prayers," Mays said. "When I was a teenager, I knew that I did some things that broke my parent's hearts, but my parents were always there for me, and I want to be there for my son no matter if he falls or disappoints me. I have learned that my son is not me, and that my son will make his own decisions. When he does fall, I will be there for him to pick him up and love him."
Rush also discussed the many reasons why teenage boys act the way they do, which can cause parents pain.
"They have to go through identity crisis, learning that they have boundaries, and that they need boundaries," Rush said. "They have to go through the name-calling and sometimes they have to feel associated with things that are not who they are. Teenage boys even have to go through stages of being hurt and not knowing they have to be healed. They end up ignoring their hurt, so what happens to most boys is that they have wounded spirits. They are just damaged so deep and it isn't a cultural thing or racial thing, it's not a financial thing either. It's just the storm teenage boys have to endure during their teenage years."
Rush said the main concern he heard from parents at the conference is the struggles they go through when raising their sons and giving up too soon.
"Many of them just throw their hands up and they are telling their sons that it's okay, we'll just do whatever you want or the state or anyone can have them," Rush said.
Ilvin Parker said the conference empowered him as a father.
"This conference let me know that everything that I have done to help raise my son is what I was supposed to be doing," Parker said. "Everything I am going to do now in helping my son grow is going to result in him being a king."
Parker grew up without a father and believed this conference will help him learn new things as a parent.
"With me not having a father, I can't Google how to be a father, so I really don't know," he said. "With this conference, it gave me the tools that I needed to be a good father. A father of Christ to my son and let my son know that you are a king."
This is the first year Rush hosted this program. He hopes to expand the P.O.T. Boys Experience to a national level.
"I hope that the nation will adopt this conference and I hope that our state representatives and our president will somehow hear this conference and endorse it," Rush said. "Someone will be able to say to the leaders of our country that there is something going on in Dallas that needs national attention because this is a national epidemic."
Michael encourages other parents to attend the conferences in the future.
"This is just not about raising your kids, it's not just about if you have a teens, it's much more than that," he said. "You could affect the world and make a difference in the world by coming to a conference like this. I learned that I could affect not only my kids, but my nephews and neighbors' kids. Anytime we have an opportunity to make a difference, we should take advantage of that."