Obama: Economic fairness, our 'great unfinished business'
George Curry | 9/6/2013, 12:41 p.m. | Updated on 9/6/2013, 12:42 p.m.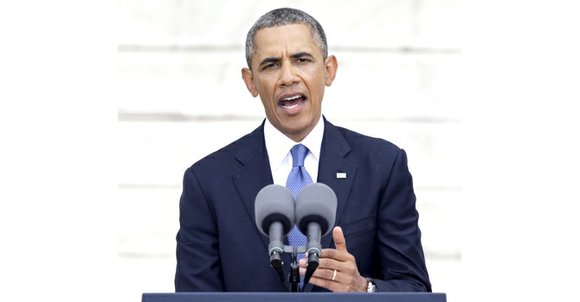 WASHINGTON (NNPA) – After repeatedly praising Dr. Martin Luther King Jr. for leading a movement in the 1950s and 1960s that demolished America's apartheid-like treatment of African Americans, President Obama told those attending an observance of the 1963 March on Washington Wednesday that making sure Blacks and Whites are on the same economic level is America's "great unfinished business."
Obama, the nation's first Black president, spoke candidly on Wednesday about the need to eliminate the last vestiges of racial discrimination.
"And so as we mark this anniversary, we must remind ourselves that the measure of progress for those who marched 50 years ago was not merely how many Blacks had joined the ranks of millionaires; it was whether this country would admit all people who were willing to work hard, regardless of race, into the ranks of a middle-class life," Obama said. "The test was not and never has been whether the doors of opportunity are cracked a bit wider for a few. It was whether our economic system provides a fair shot for the many, for the Black custodian and the White steelworker, the immigrant dishwasher and the Native American veteran. To win that battle, to answer that call – this remains our great unfinished business."
Obama headlined an array of speakers that included two former presidents – Jimmy Carter and Bill Clinton; Congressman John Lewis, D-Ga., the lone surviving speaker of the 1963 March on Washington; civil rights leaders Al Sharpton of the National Action Network, Marc Morial of the National Urban League, Charles Steele of the SCLC, Benjamin Jealous of the NAACP; King children Martin III, Dexter and Bernice King; Top King aides Andrew Young and Joseph Lowery and celebrities Oprah Winfrey and Jamie Foxx.
Obama pointed to his election and the rise of Black CEOs of Fortune 500 companies as examples of Black advancement.
"We rightly and best remember Dr. King's soaring oratory that day, how he gave mighty voice to the quiet hopes of millions, how he offered a salvation path for oppressed and oppressors alike. His words belong to the ages, possessing a power and prophecy unmatched in our time," Obama said. "But we would do well to recall that day itself also belonged to those ordinary people whose names never appeared in the history books, never got on television.
"Many had gone to segregated schools and sat at segregated lunch counters, had lived in towns where they couldn't vote, in cities where their votes didn't matter. There were couples in love who couldn't marry, soldiers who fought for freedom abroad that they found denied to them at home. They had seen loved ones beaten and children fire-hosed. And they had every reason to lash out in anger or resign themselves to a bitter fate.
"And yet they chose a different path. In the face of hatred, they prayed for their tormentors. In the face of violence, they stood up and sat in with the moral force of nonviolence. Willingly, they went to jail to protest unjust laws, their cells swelling with the sound of freedom songs. A lifetime of indignities had taught them that no man can take away the dignity and grace that God grants us. They had learned through hard experience what Frederick Douglass once taught: that freedom is not given; it must be won through struggle and discipline, persistence and faith."