Obama: Economic fairness, our 'great unfinished business'
George Curry | 9/6/2013, 12:41 p.m. | Updated on 9/6/2013, 12:42 p.m.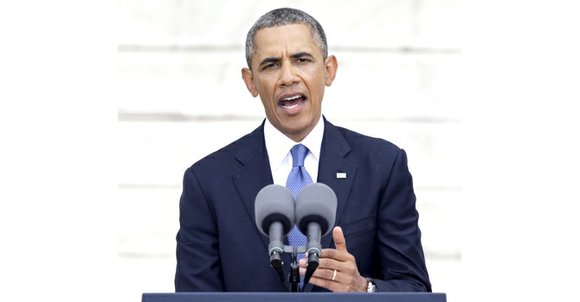 Given such sacrifice, Obama said, it would be an insult to their memory to minimize the progress that came about as a direct result of the Civil Rights Movement.
"That was the spirit that they carried with them like a torch back to their cities and their neighborhoods, that steady flame of conscience and courage that would sustain them through the campaigns to come, through boycotts and voter registration drives and smaller marches, far from the spotlight, through the loss of four little girls in Birmingham, the carnage of Edmund Pettus Bridge and the agony of Dallas, California, Memphis. Through setbacks and heartbreaks and gnawing doubt, that flame of justice flickered and never died," Obama said.
"And because they kept marching, America changed. Because they marched, the civil rights law was passed. Because they marched, the voting rights law was signed. Because they marched, doors of opportunity and education swung open so their daughters and sons could finally imagine a life for themselves beyond washing somebody else's laundry or shining somebody else's shoes. Because they marched, city councils changed and state legislatures changed and Congress changed and, yes, eventually the White House changed," Obama said as the crowd cheered.
One of those who kept marching was Lewis, then-chairman of the Student Nonviolent Coordinating Committee and, at 23, the youngest person to speak at the march on Aug. 28, 1963. Catholic leaders in the civil rights coalition who had seen a draft of Lewis' speech threatened to withdraw from the march if he were allowed to deliver it as written.
In the early version, Lewis called a civil rights bill backed by the John F. Kennedy administration "too little, too late" and questioned the administration's devotion to civil rights. Lewis had planned to say, "We won't stop now. All of the forces of Eastland, Barnett and Wallace and Thurmond won't stop this revolution. The next time we march, we won't march on Washington, but we will march through the South, through the Heart of Dixie, the way Sherman did. We shall pursue our own 'scorched earth' policy and burn Jim Crow to the ground – nonviolently. We shall fragment the South into a thousand pieces and put them back together in the image of democracy."
Under heavy pressure from the elder statesmen in the movement, Lewis toned down his language. But on Wednesday, the Georgia congressman was not mincing words.
"Fifty years later we can ride anywhere we want to ride, we can stay where we want to stay," he said. "Those signs that said 'White' and 'Colored' are gone. And you won't see them anymore – except in a museum, in a book, on a video …
"The scars and stains of racism still remain deeply embedded in American society, whether it is stop-and-frisk in New York or injustice in Trayvon Martin's case in Florida, the mass incarceration of millions of Americans, immigrants hiding in fear in the shadow of our society, unemployment, homelessness, poverty, hunger or the renewed struggle for voting rights."