Obama: Economic fairness, our 'great unfinished business'
George Curry | 9/6/2013, 12:41 p.m. | Updated on 9/6/2013, 12:42 p.m.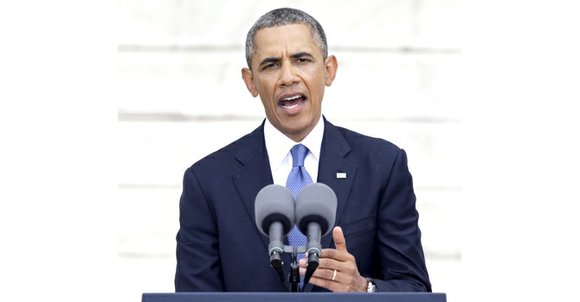 Bernice King, the slain human rights leader and primary organizer of the Wednesday commemorative service on the Mall, said: "We are still chained by economic disparities, class inequalities and conditions of poverty for many of God's children in this nation and around the world. If we are going to continue the struggle for freedom and create true community, then we will have to be relentless in exposing, confronting and ridding ourselves of the mindset of pride, and greed, and selfishness, and hate, and lust, and fear, and idleness, and lack of purpose and lack of love as my brother said for our neighbor.'
National Urban League President Morial warned against complacency.
"It is time, America, to wake up," he said. "Fifty years ago that sleeping giant was awakened, but somewhere along the way we've dozed. We've been quelled by the lullaby of false prosperity and the mirage of economic equality. We fell into a slumber. Somewhere along the way, white sheets were traded for button-down white shirts. Attack dogs and water hoses were traded for tasers and widespread implementation of stop-and-frisk policies. Nooses were traded for handcuffs."
Sharpton, who led a larger march on Saturday, pledged to attack different variations of Jim Crow laws. Jim Crow, named after a popular 19th century minstrel song that stereotyped Blacks, were local and state laws, mostly in the Southern states of the old Confederacy, that mandated rigid racial segregation in all public facilities from shortly after the Civil War to the mid-1960s.
"We came as the children of Dr. King to say we are going to face Jim Crow's children because Jim Crow had a son called James Crow Jr., Esquire. He writes voting suppression laws in language that looks different but the results are the same. They come with laws that tell people to stand their ground. They come with laws that tell people to stop-and-frisk. But I came to tell you that just like our mothers and fathers beat Jim Crow, we will beat James Crow Jr., Esquire."