Ben Jealous resigns as NAACP president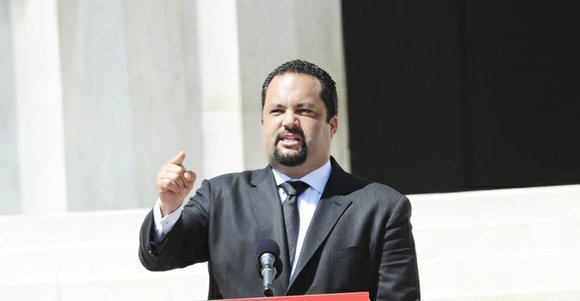 WASHINGTON (NNPA) – Five years ago, Benjamin Jealous, president and CEO of the National Association for the Advancement of Colored People, made two promises. The first was to the NAACP to help the organization get to the next level, revitalizing the mission and the relevancy of the storied civil rights group for the 21st century and old and new battles ahead. The second promise was to his then 3-year old daughter that he would return to full-time daddy in five years. He says now is the time to keep that second promise.
"Leadership involves knowing when to step up, and when to step down," Jealous said on a telephone call with reporters Monday.
Looking back at his accomplishments, he mentioned how the annual revenue of the NAACP doubled from $23 million in 2007 to $46 million in 2012. Donors also increased from 16,000 to 132,000 over the same period. According to Jealous, the NAACP has more activists online (1.3 million) and on mobile devices (more than 430,000) than any other civil rights organization.
"We're not just more powerful and more effective and larger, we are also financially solvent and more sustainable," Jealous said with pride.
And many activists agree.
Ron Daniels, president of the Institute of the Black World 21st Century, a group that works to build economic, social and political power in Black communities, said that Jealous energized the NAACP by bringing a lot of young, talented and gifted people on board.
He also said Jealous highlighted the issues of environmental justice, mass incarceration and the war on drugs.
"[Jealous] uplifted these issues as being vitally important to healing and revitalizing sectors of Black America moving forward," Daniels said. "There is a way that people tend to stay in these positions for a very long time, five years is not a long time. His tenure was really successful and I was actually looking forward to more."
Al Sharpton, president and founder of the National Action Network, said that he had mixed emotions when he learned that Jealous would resign from the NAACP.
"I am happy that he has done so well and leaves his post with no scandal, shame, or physical challenges, and young enough to have a bright future," said Sharpton in a press release. "There is sadness, however, because for the last several years he has joined Marc Morial (National Urban League president), Melanie Campbell (president of the National Coalition on Black Civic Participation), and me as we tried to broaden the civil rights leadership of the 21st century movement. Ben Jealous has operated with integrity and a real sense of hands-on activism."
Mary Frances Berry, history professor at the University of Pennsylvania in Philadelphia and former chairperson of the United States Commission on Civil Rights, said that she was on the NAACP selection committee to pick a successor to Bruce Gordon.
"We expected him to make the organization financially solvent and he did," Berry said. "We hoped by appointing someone younger and someone new that had a lot of energy and interest in the organization that it would create a more livelier organization."