ManPower, a message to 'mighty men' during MegaFest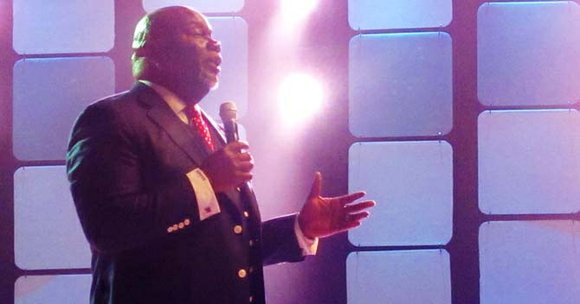 The Dallas Examiner
"Our Father and our God, we are your sons," Bishop T. D. Jakes prayed, speaking before the thousands of men assembled for the ManPower Opening General Session as part of the three-day long MegaFest event. "We have no agenda but to bask in your presence and your glory."
With each faith-filled declaration by the bishop, many in the crowd lifted both their arms and their voices in praise, thanks and exuberant joy. A live band and a dance crew also brought some churches into Hall A of the Dallas Convention Center the night of Aug. 29. Attendee Donald Killins said that a bit of down-home religion was what it was all about for him.
"To come, to get rejuvenated, to get revived, to hear the unadulterated pure raw 'word' that I need to keep me in line," he said was his purpose in attending the event. "I'm just really excited about being here and hearing a word that could be a life-changing word."
While MegaFest was open for all, the ManPower session was designed with the Christian man in mind. Jakes, United Tenors, William Murphy and Dr. Creflo Dollar were all there to bring messages of strength, hope and renewal to the crowd.
From the stage, Bishop Clifford Granger likened the gathered males to the "mighty men" mentioned in the 1 Chronicles chapter of the Bible. He reminded them that they were great men with a mission of faith to fulfill in the world just as those in 1 Chronicles were powerful men who served King David in his work for God.
"I need you just to turn to whoever that is you're sitting next to and say 'I sit among the mighty men,'" he requested.
"All of these mighty men were qualified to be king in their own right," he preached on. But the leader of the men told David they were not there to challenge him, Granger said, but to assist him. "God is with you and God helps your helpers. I wonder if we still have some mighty men?"
The hall began to ring out with confirmation that there were, indeed, still such men.
Several men brought their sons and daughters with them to the session. Michael Alridge, attending with son Nicholas Rashad – who is still in elementary – felt that the lessons of the ManPower gathering were good for males of any age.
"ManPower is so enlightening for men. Not just for men, but for all men," he said, indicating his son, "because it talks about love, friendship, marriage, relationships, children, you know, fathers. We all share that same passion, hopes and dreams."
The passion Aldridge spoke about was center to the ManPower ministry of Dollar. Long before he took the stage, Jakes mentioned to the audience that the doctor was so fired up to speak to them that he had "singed his hand" when the pair shook hands.
Once Dollar stepped upon the stage again, a multitude of hands went skyward in the spirit of the evening. Along with the hands, an array of smart phones and e-tablets were held aloft, as cameras rolled.