ManPower, a message to 'mighty men' during MegaFest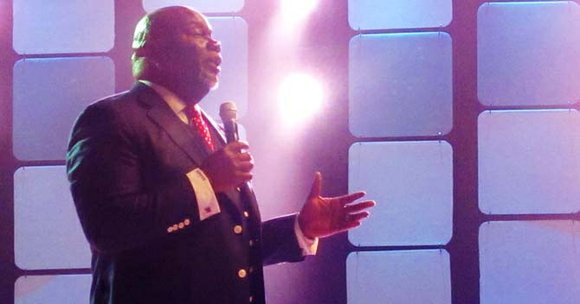 "I'm about to attack every devil that has tried to take you down," Dollar said. He noted that renewal and growth were integral parts to being Christian men in the larger world. Those in the room had to stay sincere to the passion of their works in the world, he said, but it was renewed faith that would keep their path true.
"God is not good because you've been good," he said. "God is good because God is good. And if we don't change, we can't grow. And if we don't renew our minds, we can't change. Christianity is not about right doing; it's about right believing, and right believing will cause you to do right." The crowd broke out in applause as he repeated the phrase.
"Did you hear what I said?" he queried, as the crowd erupted enthusiastically once more.
He used the first chapter of Romans to teach this lesson of belief renewed, calling upon the men of the session to be like Paul, whom, Dollar noted, was a confident disciple of Christ.
"Be not ashamed of the gospel of Christ," he told those assembled. "This gospel is the power of God that will bring you all the benefits of Jesus Christ."
Hope, passion, renewal for the future; an appeal that the gathered visitors to ManPower never forget that they are mighty men – those were the themes of the evening, the takeaway messages for the hearts of those assembled.
"The best is yet to come," Jakes told the crowd repeatedly before he left the stage. "The best, the best, the best."