Oprah Winfrey, Bishop T.D. Jakes tackle fatherlessness during Oprah's Life Class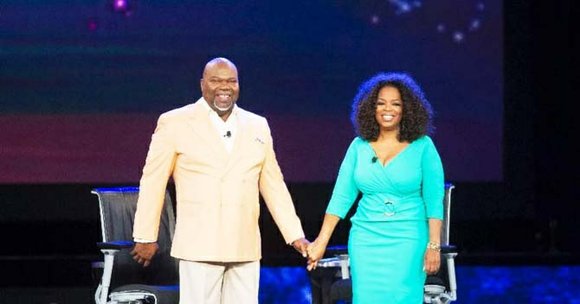 The Dallas Examiner
Oprah Winfrey and Bishop T.D. Jakes tackled the issue of fatherless households before thousands of people in two episode tapings of Oprah's Lifeclass, which was held at the American Airlines Center on Aug. 29 during Jake's three-day MegaFest festival.
"Every child has a hole in their soul in the shape of their father if their father is missing. How then do we begin to fill up the holes?" Winfrey asked Jakes.
Jakes responded that people without fathers have to acknowledge that they have a hole and should stop trying to fill the void with negative behavior, such as excessive drinking, promiscuity and drug use. Instead, he said that they should fill up on spirituality and return the love that they didn't receive from their fathers.
He also stated that people have to let go of the pain of the past and must relinquish their fantasies of having an ideal father.
"You cannot reclaim yesterday. What you can do is embrace what you have right now and allow it to fill the vacancy of what you didn't get yesterday," Jakes said, adding that when people hold on to the pain of their past, they inhibit themselves from obtaining their destiny.
Furthermore, Jakes commented that God has an amazing way of subsidizing the lack of having a father through surrogate fathers. On another note, he mentioned that fatherlessness is oftentimes generational, as absentee fathers are usually victims of growing up without a father as well.
Winfrey inquired how could the generational chain of fatherlessness be broken. Jakes said that the first step is to talk about it. He admitted that men don't open up easily, explaining that men, since birth, have been taught to not show their emotions. In order for absentee fathers to open up, he requested that people be patient and not use what they say against them. Most importantly, Jakes iterated that people have to be willing to love absentee fathers despite their mistakes.
The next step, Jakes commented, is to understand that the absentee father may not have been in his children's lives due to a trauma he was dealing with.
"We have not talked about the wounded father," Jakes said. "You cannot have reconciliation until you understand that he is wounded too. You don't get through this world without bruises. You don't get through this world without stiches. You don't get through this world without pain. Understanding those pains lets you know that you are not necessarily the reason he wasn't there."
Moreover, angry mothers could also influence fatherlessness, Jakes remarked. He explained that a mother sometimes uses the children as a way to punish the father for a relationship that didn't go well between her and him, not realizing that the father could be a good parent even though he wasn't a good mate.
Being a good mate and parenting are two different skill sets, he reasoned, and mothers should not allow their personal bitterness to get in the way of their children having a relationship with their father.