Oprah Winfrey, Bishop T.D. Jakes tackle fatherlessness during Oprah's Life Class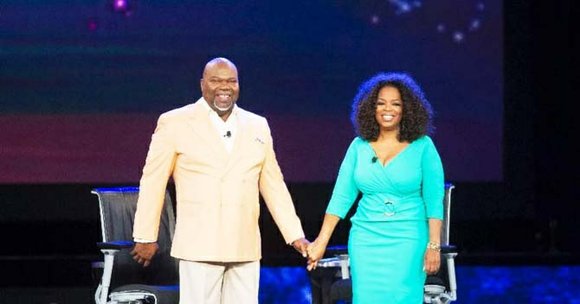 Women, he said, have been taught that they are powerful if they harbor anger against the father, but elucidated that forgiveness gives them far more strength. Nevertheless, Jakes clarified that it is good for a mother to be wary of her children having a relationship with their father if she suspects that he will negatively influence them or harm them.
Another reason for fatherlessness, Jakes added, is perhaps due to the fact that men aren't advertised towards on how to build relationships with their children.
"We do not know in the absence of the woman what our role is with the child. You [women] get a lot of training on being mothers. You grow up playing with dolls and see pictures of women holding babies. You don't see a lot of pictures of men holding kids," Jakes said.
The importance of sons learning from their fathers was also discussed. Jakes expounded that in their younger years, boys tend to nestle around their mothers. However, starting in their early adolescent years, they are trying to figure out what it's like to be a man. Jakes elaborated that adolescent boys need to hear about how to be a man, in that even some women are good at doing, but they also need to see an example.
Jakes encouraged absentee fathers by saying that even though they messed up the first time, they can reenter their children's lives. He advised fathers that in order to establish a relationship with their children, they have to admit that they were wrong and have to try to rebuild their children's trust. Then, they have to court their children.
Jakes described courting as having the fathers show their children what it is like to be them, and allowing their children to do the same. However, Jakes warned the fathers that they shouldn't try to act as disciplinarians to their children, for their previous absence have cost them this role.
Towards the end of the show, Jakes talked about the importance of family and that people should be open to forgiveness, stating that there is not such a thing as a perfect family. He urged people to look at their families as a "gymnasium for them to work their love out in," and realize that their families are tools to help them grow.
Concluding the program, Jakes recommended that people strive to succeed at loving imperfect people and the people that hurt them, stating that love is not perfect, and that it is strengthened by brokenness.
Throughout the show, Winfrey and Jakes talked to people in the audience, as well as those who Skyped in, about their experiences of father-child reconciliation and reconstructing family relationships. Notable celebrities in the audience included Emmitt Smith and Meagan Good.
The first half of the show aired on the OWN network Sept. 1. The second half aired Sunday.