Tulisoma: A community that reads together
Michael McGee | 9/12/2013, 11:48 a.m. | Updated on 9/12/2013, 11:48 a.m.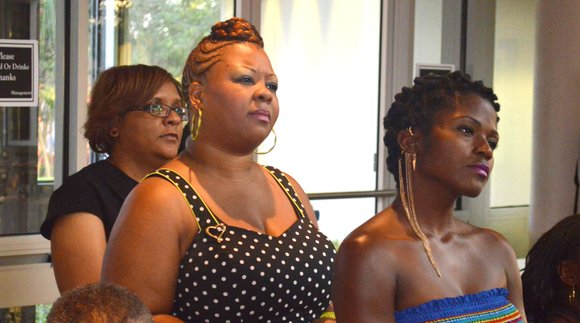 The Dallas Examiner
"Reading, somehow, seems like a lost art," said Daezel Mae, a poet who attended the recent Tulisoma South Dallas Book Fair kickoff reception at the African American Museum in Fair Park on Aug 30. While speaking in support of her book, A Peace of Mind, she said she was thrilled to play a part in such a significant cultural event.
"We like to have things in the media put out in front of us without us to do any imagination of our own – movies and music and things like that," Mae said.
While stressing that mass media entertainment wasn't a bad thing, Mae remarked that there will always be a need for something more individual and thought-provoking.
"There's nothing wrong with actually seeing the words on the paper, reading it, and envisioning it all for yourself," she said.
Tulisoma – Swahili for "we read" – is a festival supporting literacy, the arts and small business in the Fair Park and South Dallas area, said organizers in a media release. Founded by Dr. Harry Robinson of the African American Museum and former Councilman Leo V. Cheney Jr., the event has been bringing together writers, readers, storytellers, families and local businesses in literary fellowship since 2003.
Actress Lynn Whitfield and journalist Bob Ray Sanders were two of the many notables to participate in the two-day book fair, as well as former Councilwoman Diane Ragsdale and Carolyn R. Davis, District 7. There were workshops on writing and publishing, a movie screening, lectures and book signings.
Nicolas Branch, in attendance with his two young sons, felt that Tulisoma was a great antidote to kids being plugged into television, video games and the Internet all the time.
"This is huge for them to know their culture. It means a lot to me and them also," he explained. "[My children] have people here that have made their way – like the authors and the storytellers – people have made their lives here in Dallas. And they need to understand and be encouraged that they can do the same."
Branch called his oldest son, Caleb, "a bookworm" as the child nodded. When asked about what he enjoyed reading, "Fiction and non-fiction," was Caleb's reply. "All of it."
Another guest of the kickoff was Melody Bell, a griot – or traditional western African storyteller – singer and poet, who has attended every Tulisoma events since the beginning. Bell explained that a griot sat next to the king in ancient times and emphasized the value of a storyteller to that society.
"They'd know the goings-on in the cities, they'd know the happenings. They'd know birthday parties; they'd know when people would die, when people were born." The role of a modern griot, Bell said, is as important now as it has been in the past, especially for children.
"Storytelling helps with reading, language arts, speech. It helps in all aspects." As a former public school teacher Bell felt the Tulisoma writing workshops were essential in today's scholastic environment.