Tulisoma: A community that reads together
Michael McGee | 9/12/2013, 11:48 a.m. | Updated on 9/12/2013, 11:48 a.m.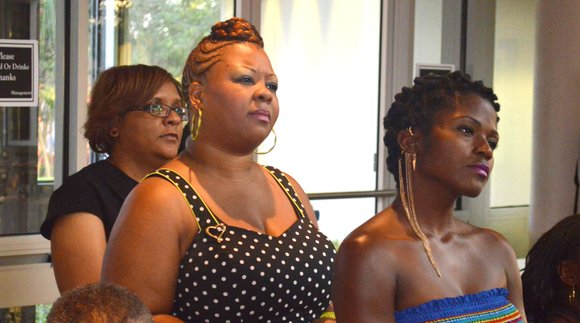 "One thing they are having problems with is children writing," she said. "Since you have book writers here, it's important for you to bring your children so they can work on writing skills."
Playwright LaKenya Moss felt that Tulisoma was the ideal forum for more complex, adult issues to be explored. Visiting the literacy fair to showcase a scene from her play Dying Alone, Moss discussed how community events such as these could help turn the written word into wider social action. The drama, based upon her father's death and the fact that he hid his AIDS infection from his family, is intended to bring awareness, she said.
"My father died alone. And he chose to die that way out of fear." The play, Moss said, was a way for her to walk in her father's shoes. It was a means for her both to deal with what she was feeling and a way to combat stereotypes. "Let's just help the cause. You know, bring the awareness out, because we all need to be loved at the end of the day."
Dr. Morris Prigoff – also known as "Moe" from the television show Storage Wars: Texas – has a role in the play, which debuts Sept. 28 at the Granville Arts Center in Garland. He attended the reception and talked about the importance of written works of social consciousness. In the case of Dying Alone, he said, the play is intended to change attitudes.
"With AIDS, unfortunately, there's stigmas still in our lives, and I just felt like this was something that I could do to give back to the community," he said, "to offer some clarity."
Seeing HIV/AIDS have such a catastrophic effect in the African American community, Prigoff believes that writers such as Moss have the potential to lend a meaningful voice to such issues.
"That's why I'm so proud of her production."
Tulisoma acted as a bridge of sorts; the written word, stories, culture and tradition all came together to make a difference in the city.
"Get your children out here to learn history, to know history, to know culture, because Dallas is one big, beautiful story that needs to be told by the people that are in it," Bell said.