Ben's Chili celebrates 55 years of history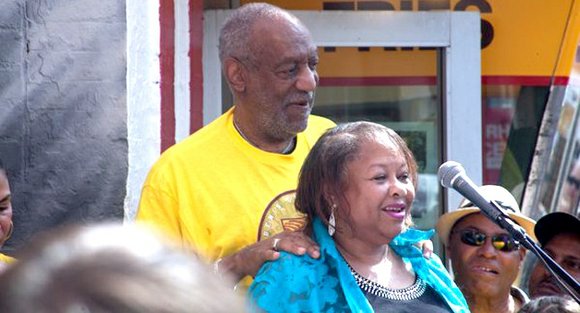 The Washington Informer
WASHINGTON (NNPA) – Hundreds of people gathered outside of Ben's Chili Bowl throughout much of the afternoon on Aug. 22 to celebrate the landmark restaurant's 55th anniversary.
The celebration, which was held two days before the commemoration of the 50th anniversary of the momentous March on Washington at the Lincoln Memorial, provided guests an opportunity to revisit the restaurant's rich history while feasting on its signature menu.
"[Ben's Chili Bowl] fed people during the March on Washington," said Rhome Anderson, 38, a deejay at the celebration. "It has survived [many ups and downs – including the 1968 riots and U Street's revitalization]. This is a story where the good guys win," said the Hyattsville, Md., resident.
The Rev. Jesse Jackson and D.C. Mayor Vincent Gray gave short remarks and Brian Summers, Ben's Chili Bowl Foundation board member, read a congratulatory letter from President Barack Obama in which he promised a future visit by the first family. Comedian Bill Cosby, a longtime patron of the famed restaurant, entertained the crowd with an impromptu performance.
While passersby took photos, restaurant staff who sported bright yellow shirts with the No. 55 emblazoned across the front, prepared an endless list of orders that included Ben's trademark chili half-smokes and quarter-pound half-pork and half-beef smoked sausages served on steamed buns topped with mustard, onions and spicy homemade chili.
Amanda Morrison, a freshman at Cornell University, and her family stopped by on their way to Ithaca, N.Y. She said that eating at the restaurant turned out to be one of the best parts of their visit to D.C.
"This atmosphere gives off a sense of nostalgia," said Morrison, 18, of Richmond, Va. "So many impressive people have eaten here, so it's an honor to [dine] here."
Ben's Chili Bowl was founded in 1958 when Ben Ali, a Trinidadian dental student at Howard University, and his wife Virginia, purchased and renovated the Minnehaha Theater, a silent movie house located along the historic U Street corridor in Northwest.
The business flourished during an era of segregation in the 1960s, attracting legions of noted African Americans who included jazz musicians Duke Ellington, Nat King Cole and Miles Davis, who often stopped by after performances.
At the time of Ali's death in 2009, Ben's Chili Bowl had become the restaurant of choice for local, national and international figures. In addition, the restaurant's walls are lined with autographed photos of actors like Chris Tucker and Denzel Washington as well as hip-hop artist and producer Dr. Dre.
Ben's Next Door, an upscale restaurant and bar operated by Ali's sons, Nizam and Kamal, offers everything on Ben's Chili Bowl menu, plus some of its own signature dishes.
"My husband opened a place that promoted family and community by serving good food," said Virginia Ali, 79, who sits at the helm nowadays. "The family atmosphere is carried throughout this restaurant. We love what we do. We are able to come into work every day to serve our community."
During the celebration, when there was little to no room to sit inside the restaurant, the crowd spilled out onto the sidewalk and the nearby alley, known as Ben Ali Way, where some of them danced to R&B hits that blared from large speakers. Others gazed at murals on the side of the restaurant that boasted the likeness of Cosby, veteran radio personality Donnie Simpson, go-go pioneer Chuck Brown, and Obama.
Local radio personality Rhozier "Roach" Brown, a longtime friend of the Ali family and local radio personality, said the celebration conjured memories of eating at Ben's Chili Bowl as a youngster when he lived across the street. For him, the landmark is reminiscent of a different era.
"[The Ali Family] always treated us well for as long as I have been coming here," said Brown, 69. "When you had problems, they would help you. They never turned anybody away. That is a rare thing to find these days," said Brown, who lives in Camp Springs, Md.