An Unlikely Hero
Memories of a daughter's stand during the Civil Rights Movement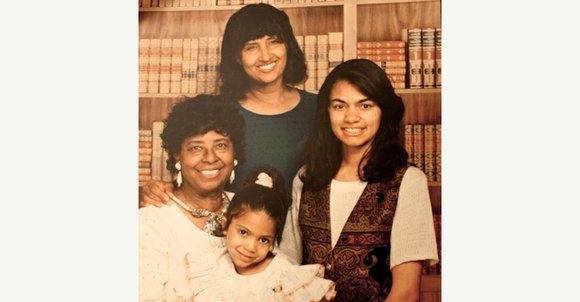 Appalled, Julia asked her daughter how could she allow someone to be so cruel to her.
"Mother, we were committed," Julia remembered her daughter telling her. "Nobody cried, and nobody fought. We just gritted our teeth and sat on those seats until they finally took [us]."
Julia recalled seeing the burned holes through the clothing that Leiwanda had worn at the sit-in, and said that her daughter had cigar burn scars on her back for the rest of her life.
Furthermore, Julia explained that Leiwanda was preparing to join the Freedom Riders, a group of demonstrators who rode integrated buses into the South to challenge the segregation of public interstate buses and terminals. In fact, she had made plans to get on the bus that was later wrecked and firebombed in Anniston, Ala.
However, Julia stopped her daughter long before she could get on that bus. Seeing that her daughter had an unwavering commitment to the movement, Julia decided to take Leiwanda out of Fisk. The young girl didn't want to leave, but Julia insisted, stating that her daughter had done enough for the movement.
With the help of the attorney and school officials, Julia withdrew her daughter from Fisk that January and sent her to live with her sister in Los Angeles. Julia asked her sister to find a local city college that Leiwanda could attend until the summer.
Spurred into Action
Jordan believes that Leiwanda was motivated to participate in the marches by the stories she had heard about her great-grandparents being slaves. One disturbing story included her great-grandmother, as a child, witnessing the slave master whip her older sister to death for refusing to work in the fields. The great-grandmother's sister reasoned that she shouldn't have to work in the fields because her father was the slave master. Her mother was a slave.
Julia was criticized by many of her friends surrounding Leiwanda's arrest. She remembered one of her friends came to her house to speak to her about her daughter.
"I know you are disgusted over your daughter embarrassing the family like that. We heard that she was down there being arrested when she ought to be in school. That's a shame," the woman stated.
However, Julia insisted she wasn't embarrassed that Leiwanda had been arrested. She was actually amazed by what her daughter had done. Her only concern was that her daughter would get permanently injured or killed. Leiwanda had actually inspired her to participate in a march in Dallas when King was invited to town to speak at Fair Park.
Moreover, Julia commented that she found it ironic that the same people who thought it was a disgrace for her daughter to march, later enjoyed the fruits of the marches, such as integration.
Leiwanda did well in Los Angeles, but after she returned home, Julia saw that her daughter was still unnerved about her treatment on the marches. Sometimes she would wake up in the middle of the night crying.
One night Julia heard her crying and went to check on her.