The 50th anniversary of the Birmingham church bombing
JAY REEVES | 9/23/2013, 2:36 p.m.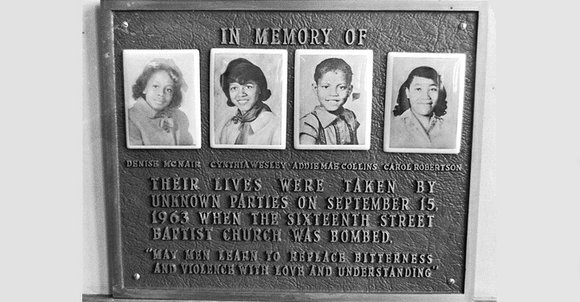 During the morning commemoration, an honor guard composed of Black and White police officers and firefighters watched over ceremonies attended by the mixed-race crowd, something unthinkable in Birmingham in 1963. That same year, White police officers and firefighters used dogs and water hoses on Black demonstrators marching for equal rights.
President Barack Obama issued a statement noting that earlier this year the four girls were posthumously awarded the Congressional Gold Medal, one of the country's highest civilian honors.
"That horrific day in Birmingham, Ala. quickly became a defining moment for the Civil Rights Movement. It galvanized Americans all across the country to stand up for equality and broadened support for a movement that would eventually lead to the passage of the Civil Rights Act of 1964," Obama said.
Rev. Bernice King, a daughter of the late civil rights leader, the Rev. Martin Luther King Jr., noted the changed city in a prayer.
"We thank you father for the tremendous progress we have made in 50 years, that we can sit in the safe confines of this sanctuary being protected by the city of Birmingham when 50 years ago the city turned its eye and its ears away from us," she said.