Affordable Care Act nearing enrollment for all Americans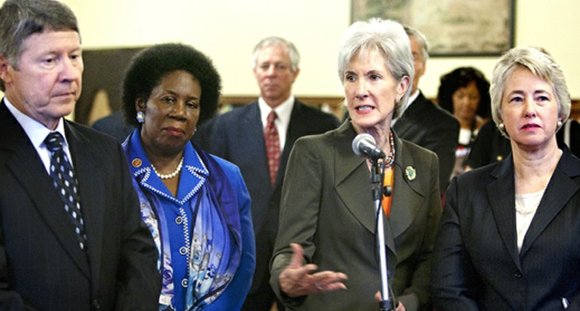 Jackson Lee reminded consumers to beware of scams. Attempts to defraud consumers have already been reported, as scam artists attempt to illegally gain access to personal information such as Social Security numbers, credit cards and bank accounts.
"Please do not send money to anyone if you are looking for information," she said. "The only money you will pay is to the insurer who has a package that you want."
For more information on enrollment visit http://www.healthcare.gov.
Affordable Care Act Frequently asked questions
The health insurance marketplace, also called a health insurance exchange, is a way to find coverage under the Affordable Care Act.
Open enrollment runs from Oct. 1 through March 31, 2014. Health plans and prices will be available by Oct. 1. Coverage starts as soon as Jan. 1, 2014.
The Centers for Medicare and Medicaid provide the following questions and answers about the marketplace.
Q. Where can someone go for coverage and enrollment help?
A. You can get help online (http://www.healthcare.gov), by phone (1-800-318-2596) or in person. There will be people trained and certified to help you understand your health coverage options. The website and toll-free call center can direct you to the benefit counselors in your area. Insurance agents and brokers can also help you with your application and health plan.
Q. How does someone shop for insurance?
A. You will fill out an application and find out how much you can save on monthly premiums and out-of-pocket costs. Most people who apply will qualify for lower costs of some kind. Specific information about the health plans available in your area will be posted at http://www.healthcare.gov by Oct. 1.
Q. Who does the marketplace help?
A. The uninsured. If you have health insurance through either your employer or a government program like Medicare or Medicaid, you needn't concern yourself. The marketplace is meant mainly for individuals who want to buy health care coverage on their own for themselves or their families.
The marketplace simplifies your shopping for coverage by letting you make side-by-side comparisons of health plans. You'll get a clear picture of what benefits you'd get and what premiums and deductibles you'd pay. Then you can enroll in the plan that best fits your needs and budget. It all can be done online.
Q. Can someone with a medical condition buy insurance?
A. Yes. Insurers can't deny you coverage because you have a medical issue, such as cancer or diabetes. Nor can they charge you more than they would someone who's in good health. And once you have insurance, the company can't delay your treatment. Your medical care begins immediately.
Q. What does the marketplace's health insurance cover?
A. All the health plans provide a package of 10 essential benefits, including emergency services, hospital care, lab services, prescription drugs, doctor visits, preventive care, rehab services and maternity care. Some plans offer additional coverage, such as for dental or vision care.
The benefits are similar to what's typically covered in an employer-provided plan. That's a significant point. Until now, individual insurance policies haven't always offered such an array of services.
Q. How do the health plans vary in cost?
A. Some marketplace plans have lower monthly premiums but charge you more out-of-pocket when you require care. Other plans charge higher premiums but cover more of your medical expenses. You'll decide how you want to balance your premium costs with your out-of-pocket costs.
For example, if you see your doctor often and take a number of prescription drugs, a "platinum" or "gold" plan may work better for you. If you don't, a "silver" or "bronze" plan may be more practical. You'll see the differences in premiums and out-of-pocket costs when you shop for a plan.
Q. What if someone doesn't have coverage in 2014?
A. The new health care law requires people who can afford it to take responsibility for their health insurance by getting coverage or paying a fee. With insurance, you have peace of mind. Without it, you bear the full brunt of any medical bills, which could land you and your family deep in debt.
Source: Centers for Medicare & Medicaid Services