Justice for DJ
Community gathers to support 8-year-old shot in the face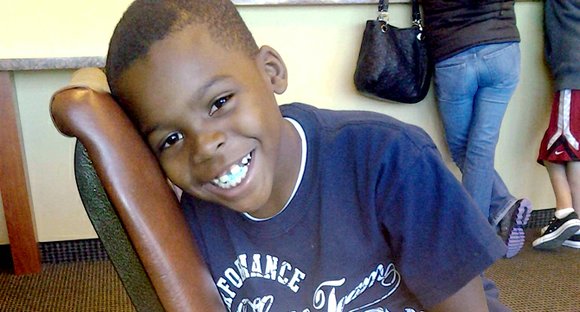 The Dallas Examiner
The bright, cloudless Saturday afternoon sky itself seemed to signify hope.
In the Walgreens parking lot at the corner of Royal Lane and Abrams Road, friends and family of 8-year-old Donald Maiden Jr. gathered for a daylong Justice for DJ Block Party on Saturday to raise funds for his medical bills. Maiden, or "DJ" as his friends call him, was shot in the jaw Sept. 3 while playing outside his home in the La Bella Palms Apartments, across from the Walgreens. The shooter, 46-year-old Brian Cloninger, was charged with injury to a child and remains jailed on a $2.2 million bond.
Despite the horror of a crime that has gotten national attention, the fundraiser wasn't about what happened; it was about where the community was going. Along with friends and family, actress/poet Ashley Wilkerson, community activist Roy Williams, and members of the New Black Panther Party all showed up to the event to lend moral as well as financial support to DJ and his family. Dozens of donors and well-wishers, some who drove up, some who walked by, also came out in support of the family.
Rosalyn Wells, a family friend and one of the organizers of the fundraiser said that the event had a dual purpose. Along with the fundraising, she noted, the gathering was meant to create awareness.
"We're bringing the community together so we can stop this gun violence against our youth," she said.
DJ has already undergone two surgeries and is possibly facing four more, said Wells. She wasn't sure if the family had insurance, but added, "They wouldn't be able to afford all the stuff that he has to have done to him." She was hoping to raise $10,000 to $15,000 for DJ. "We're just trying to get as much as possible."
Yet, his condition seems to be slowly progressing.
"He's a strong little boy," she stated. "He tried to walk the other day. He couldn't – he got dizzy, so he had to lay back down."
Despite some setbacks, his prognosis is good. DJ will have to learn to walk again, get several teeth replaced, and he is having trouble with his eyesight, but Wells said he will be able to participate in normal activities in time.
"Give him about four or five months, he should be back and up and running with that football," Wells said.
DJ's mother, Latamarin Locklin, had just come from visiting her son at Children's Medical Center of Dallas when she arrived at the fundraiser.
"He's doing very good; recovering very well. He's on his way to rehab on Tuesday and then from there he'll be coming home," she said. "Actually, before we came, he was up and on his way to the playroom to go play."
As a mother, it has been difficult to watch her young child suffer and struggle through recovery, but Locklin stated she is to stay strong for her son. She said she just wants to make sure that he's okay and she is dealing with the situation the best she can.
Despite the good news and anticipation of DJ's homecoming, Locklin is still upset about the crime.
"I want the charges against the guy who did this brought up to a higher charge than injury to a child … That's justice for him."
Beyond that, it's about celebrating the progress of her son's recovery and trying to stay above water financially, she said. "It's gonna be a struggle but we're gonna try to make it."
Wells added one message that she felt was essential and needed to be heard. "Just help us to help Donald get better," she said, "and stop this gun violence against our youth in the community, in all the communities in the Dallas area."
Donations at the block party helped the fundraisers reach just over half of their goal. DJ's family and friends will hope to reach the rest of the goal through another fundraiser, a carwash on Saturday at 10 a.m. at the apartments located at 7120 Skillman Ave. DJ's grandfather, George Locklin, has set up a website on http://www.GiveForward.com to receive public donations. The website can be accessed through Facebook on the family's page, Justice for DJ.