Surviving childhood diseases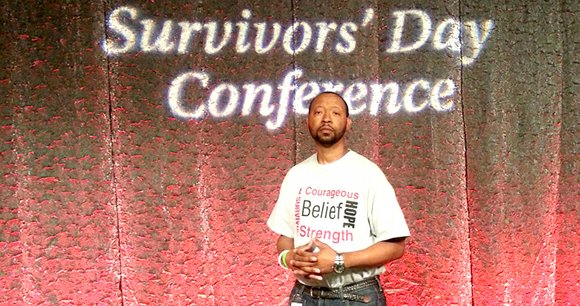 The Dallas Examiner
One of Keenan Green's fondest childhood memories is playing basketball with Michael Jordan. Jordan was hosting a mini-basketball camp for cancer patients at St. Jude Children's Research Hospital located in Memphis, Tenn. Green was one of the patients. He was 12 years old at the time.
Now 38, Green joyfully reminisces that he was having so much fun in that moment even though he was then battling Hodgkin's lymphoma, which is a cancer of lymph tissue found in the lymph nodes, bone marrow, spleen, liver and other sites, according to the National Institute of Health.
Before he was diagnosed with the illness, he stated that he and his family found his initial symptoms to be striking and abnormal. They hadn't seen anyone in their small, rural town of Lucky, La., with these symptoms before.
"The first major symptom [was that] I looked like I was about five months pregnant. I had enlarged lymph nodes from chest to abdomen to pelvis," Green said.
His family immediately took him to the clinic. Medical staff couldn't reach a diagnosis, but they knew that his sickness was cancerous. They later referred him to St. Jude.
Founded in 1962 by the late entertainer Danny Thomas, St. Jude is a hospital where physicians and scientists strive to advance cures and prevention methods for pediatric catastrophic diseases through research and treatment.
As the first fully integrated children's hospital in the South, a large percent of the children treated at the hospital are African Americans. The hospital treats children from across the country.
The hospital is currently conducting research and treatments concerning sickle cell diseases, chemotherapy, the biochemistry of normal and cancerous cells, bone marrow transplantation, gene therapy, radiation treatment, blood diseases, resistance to therapy, viruses, hereditary diseases, pediatric AIDS, influenza and psychological effects of catastrophic illnesses.
Thomas' mission and motto was "No child should die in the dawn of his life." No child is denied treatment at St. Jude. In fact, families never pay St. Jude for anything, even though the hospital has a daily operating cost of $1.8 million. The fundraising organization, the American Lebanese Syrian Associated Charities, which Thomas also founded, finances everything.
Green said that he and his family knew little about St. Jude but learned from the medical staff that it had a prestigious reputation of increasing the overall survival rates for many childhood cancers. He felt fortunate that he and his family didn't have to make many adjustments to go to the hospital.
His school was informed that he would be missing a lot of class, and the family members who would be taking him to the hospital had already retired. Green and his family drove to the hospital for the first treatment, but flew for the other treatments after that.
Over the next 11 months, Green received radiation and chemotherapy. Besides losing all of his hair and experiencing side effects from the treatment, Green expressed that it was easy for him to remain positive throughout the process, mainly because he was around children going through the same experience.