Surviving childhood diseases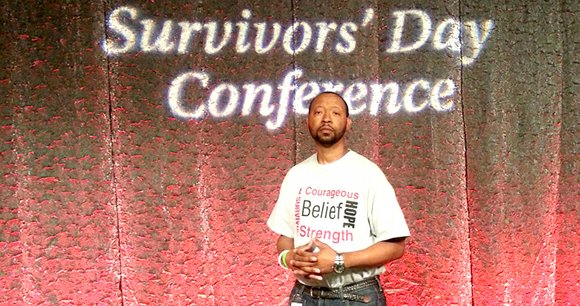 "You are a kid in another environment with a whole lot of kids that's going through the same thing that you're going through," Green said. "In some form it's like being on vacation because of the amount of stuff that St. Jude does to keep their patients' minds occupied away from the stress, and the same with the parents. So it comes to be a home away from home, and you have a family away from your normal family."
Some of the patient activities, Green remarked, included going to camps and meeting celebrities, who often visited the hospital to help it raise money. He also noted that the doctors and nurses at St. Jude treated him very well.
However, Green revealed that one of his challenges was dealing with racism when he went back home to Lucky in between treatments. Attending a school that was about 70 percent White and 30 percent Black, Green indicated that some of his White classmates didn't understand how a child could be sick and reacted to his disease as if they would become infected with it.
He said he was also teased by some of his peers about the loss of his hair. Nonetheless, Green said that his teachers were very supportive of his condition, nurtured him, and treated him like he was their own child.
After finishing treatment, things ran smoothly for Green for a while, but at the age of 15, he developed cardiomyopathy, a condition in which the heart muscle becomes enlarged, thick or rigid.
This proved to be another challenge for Green, who stated that the condition prevented him from playing high school basketball. He eventually outgrew the condition, but it reoccurred when he was 31 years old, which led to him getting a pacemaker. He also became diabetic.
In 2010, Green was placed on a waiting list to receive a heart transplant. However, Green noted that his current medication and exercise and diet routines helped him to improve his condition and he was removed from the list.
Today, Green expresses that he is doing fine, despite some side effects every now and then. Reflecting on his past and current health issues, he said he strives to stay upbeat.
"All in all, it's life. Everybody goes through something. Everybody goes through something. This is just one of my crosses to bear," Green iterated, adding that his faith helps him get through life. Instead of looking at his health as a burden, he uses it as a tool to help him appreciate life and to not take anything for granted.
When he is not at work – as a manager at Bank of America – he spends time supporting St. Jude. One program he participates in is "Sunday of Hope" with his Kappa Alpha Psi fraternity brothers. In this program, the men pick one Sunday out of the year to go to churches in the community to raise money for the treatment facility.
Moreover, Green offers encouraging words to people who may be struggling with cancer. He recently spoke at a St. Jude's survivor's conference to deliver a message of inspiration.
"If God wakes you up in the morning, it's your opportunity to walk through the doors that He's opened for you," he said, repeating his words to the group. "You can either sit and pout or you can enjoy the day. I prefer to enjoy the day."
He also advised parents with children suffering from childhood cancers to "let your child be a child," and remember that "each day is a blessing, treat it as such."
This year, the foundation will host a Rhythm of Hope gala on Saturday to ensure that children like Green can continue to receive the best treatment possible. The event will be held from 6 p.m. to 11 p.m. at the Sheraton Dallas Hotel, located at 400 N. Olive St. The evening will include cocktails, a silent auction, dinner and live entertainment by Martha Burks and the KRU. Dr. Fredrick D. Haynes III will be honored during the event.
For more information and registration for the gala or to donate, call Trumaine Thomas at 972-594-8080 or visit http://www.stjude.com/rhythmofhope.