Remembering: Four little Birmingham girls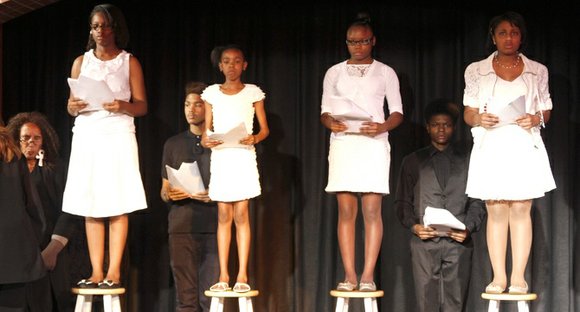 The ensemble explained that the FBI initiated an investigation and found four suspects. However FBI Director J. Edgar Hoover was against civil rights and did not allow for prosecution of the suspects. Therefore, the investigation was closed.
However, the ensemble concluded that the four suspects, all members of the Ku Klux Klan, didn't get away for long. One suspect, Robert Chambliss, was brought to trial and convicted of murder. He died in prison in 1977. Herman Frank Cash, another suspect, died in 1994 while charges were being brought against him. Thomas Blanton and Bobby Frank Cherry, the other two suspects, were sentenced to life in prison in 2001 and 2002.
The actors playing the four little girls were Kir'Ondria Woods (as Addie Mae Collins), Harper Jones (as Denise McNair), Destiny Woods (as Carol Robertson), and Fayshia Green (as Cynthia Wesley). The ensemble included Jaylnn Anderson, Bryan Ford, Erik Jenkins, Cheryl Tyre, Corey Williams, Kristal Rodgers, Tippie Hunter and Terrance Dean Jr.
A discussion took place afterward. Panelists included Dr. Beverly Mitchell from the Urban League; Rev. L. Charles Stovall, former national board member of the Southern Christian Leadership Conference; Holsey Hickman from the NAACP; Ernest McMillian from the Student Nonviolent Coordinating Committee; Diane Ragsdale, former Dallas city councilwoman, and Thomas Muhammad, board member of the National Voting Rights Museum and Institute.
Stovall said that the church was bombed because it was a place where Black people could register to vote. He said, in the midst of the current voting injustices that are taking place, the Black community must continue to fight for its right to vote.
"We need to understand that those girls gave their lives; we need to give our lives. We cannot be afraid. We cannot be scared of those who are trying to keep us out of the voting booths, keep us out of certain positions. Those same battles we fought then, we're fighting those same battles today," he said.
Muhammad recalled having the opportunity to meet Sarah Collins Rudolph, Addie Mae's younger sister, who too was in the bombing but survived and lost an eye. He encouraged young people in the audience to learn their Black history.
Ragsdale added that the Black community must strengthen its institutions to become better proponents for social justice.
McMillian noted the community's resilience and expressed that the community has to fight for public policy initiatives that transform society as well as develop its youth.
Considering the play's focus on what careers the girls may have chosen, McMillian suggested that awards named after the girls be given to professionals working in those career fields who have demonstrated an active record of justice seeking. He said that racism does not disappear, but instead emerges in new social, political and economic forms.
Mitchell stated that the way to destroy a people is to destroy its youth. She mentioned how the education and justice systems are being used to prevent Black youth from thriving. She also commented that the Black community could be hindering its own youth through neglect.
"It is our responsibility regardless of how our young people dress, the neighborhood they come from, or their background to reach out and nurture them like our parents and grandparents did us. They looked beyond the hippy-dippy, the bellbottom pants, the love beads and all of that other stuff that we went through in our season and gave us that foundation. It is our responsibility to show them the way. We can't continue to say our kids are lost. If they're lost, we lost them, and it's time we found them," Mitchell said.
Other points raised were that the Black community needs to let go of the notion that Black people are no longer oppressed, how large corporations are contributing to the demise of Black people, the need for more conversations about race, and how to involve youth in the ongoing fight for social justice.
Lastly, many expressed how art should continue to be a medium through which Black history is told, for art inspires people to take action.