Family of Champions: Johnson family makes victory a family affair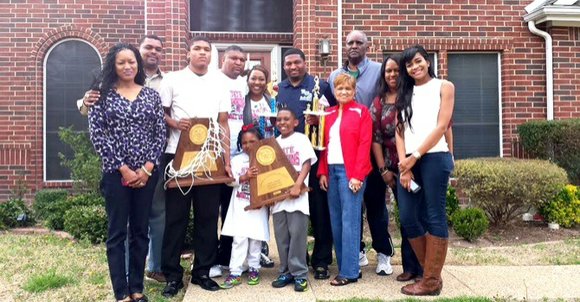 The Dallas Examiner
For Goree Johnson, Dallas ISD assistant athletic director, the basketball court is his family's sanctuary.
Goree, representing District 9-5A, a legendary coach who piloted Kimball High School's boy's basketball team to two state championships in 1996 and 1997, witnessed another family miracle.
His sons are Royce Johnson, current head boys basketball coach of Kimball High School, and Roderick Johnson, head boys basketball coach at Madison High School. Both won the state title in boys basketball on March 8 at the Frank Erwin Center in Austin.
This is Royce's third championship in four years for Kimball High School, which is in class 4A, where they defeated Amarillo High School 52-37 to claim their title. For his brother, Roderick, this is his first championship as head coach for Madison High School, which is in Class 3A, where they defeated Houston Yates 82-70 to win their second straight championship. Roderick was the assistant coach for Madison, which won the state championship in boys basketball under then head coach Damien Mobley who left to take the position of head basketball coach for Waxahachie High School.
For the Johnson brothers, winning is nothing new.
"It felt like business as usual because this was two years in a row that we won the boys basketball championship for Madison High School," Roderick said. "We were down there together last year but I wasn't the head coach and it didn't get all the attention. But as far as being down there and being able to support my brother and my brother being able to support me, it was like business as usual. It wasn't any different besides that this year got more attention because of my head coaching status."
For Royce, the theme was "like father, like son." Known as "Snoopy" by family and friends, Royce served as the prominent assistant coach on the 1996 and 1997 Kimball winning title team under his father's leadership.
"We've been doing the same things to get to the championship winning three state titles in four years," Royce said. "It's not anything you change. You just run into a new special group of kids that finishes the deal but we have been doing the same thing. Just because you don't win it doesn't mean you change the formula. Stick to the formula and when you get the right group of kids, all things work out."
What made these victories a family affair was the fact that Roderick's son, Roderick Jr., a Madison senior on the boys basketball team, also got to win a state championship as a high school basketball player. Roderick Jr. transferred from DeSoto High School to Madison his senior year in order to be closer to his father due to his parent's heavy work schedule.
"What made it special was obviously playing for your dad," he said. "Being able to come into the starting lineup was very special for me. I never got to experience that. Some of the ups and down was adjusting to it, adjusting to a new program, adjusting to playing for your dad, and balancing fatherhood and coaching. We were able to get through that and accomplish our goal so I was very proud of that. It's been something I have wanted to do since I have been down there as a ball boy when my dad was the assistant for Roosevelt's 2006 Class 3A championship. Just watching my uncle and my father, it was always something I wanted to do as a player and I am glad he gave me the opportunity to accomplish that because my Grandfather Goree, as well as my Uncle Royce, always gave me opportunities as tips to play ball better. There was always something they told me to do in practice better and I listened to them and can definitely say that it helped me to win a championship."