Flashback: NCAA's first Black president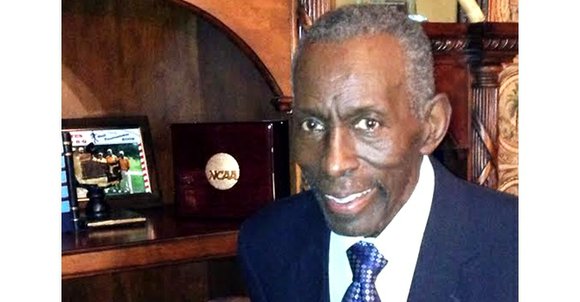 "The NCAA is constantly restructuring and realigning," Frank said. "The NCAA was structured in such a way that it was not a one-man show, it was not a two-man show. One big item that we had to deal with was realignment or restructuring of schools and conferences. Larger institutions were unhappy because smaller institutions did not put as much money into their programs, but they had an equal voice. The larger universities wanted to restructure the NCAA so that they would have a greater voice in their own affairs."
Frank, who has a love for sports, is also considered one of college's most complete and accomplished figures. He has risen from the ranks of student-athlete, served as a college coach, college president and also a conference commissioner.
Frank began playing sports during an era where Blacks and Whites were segregated.
"When I first played, the attitude of most Black college players was that when the game is over, your chance of going to the NBA were not that good and of course there was some interracial play but not that much," he said. "For example, when I was coaching, we had an invitation to the Division II championship and we were put in a bracket where all the Black teams were together."
Still, the Pennsylvania native knew his calling was in hoops.
"Basketball has been a big part of my life since high school," he said. "I played on the 1949 Aliquippa High School state championship basketball team. We won the Pennsylvania State Championship undefeated and as a result, I got a scholarship to Lincoln University and that's what enabled me to go to college, otherwise I would have ended up working in the steel mills."
He graduated from Lincoln University in Jefferson City, Mo., with honors in 1953 with a Bachelor of Science in Education. He was then commissioned to serve as a second lieutenant in the U.S. Army and served two years in Korea. After serving his country, Frank returned to Lincoln in 1956 as an assistant professor and assistant basketball coach.
"My goal was to be involved in athletics and coach," he said. "After coaching four years, I said this is too tough and decided it was time to get my doctorate degree and get involved in administration."
He received his master's degree in education in 1956 and then a doctorate in physical education in 1962. He took over reigns as head men's basketball coach in 1959 and served as basketball coach from 1958 to 1962, where he led the team to four winning seasons and qualified for the NCAA Regional Tournament all those years.
Frank is also the first Lincoln graduate to return and serve his alma mater as president. During that time, he held positions as NCAA secretary/treasurer from 1978 to 1979 and then NCAA president from 1981 to 1983.
From 1983 to 1998, he served as commissioner of the Southwestern Athletic Conference.
Frank is known in his hometown as the second leading scorer of his high school state championship basketball team, where he was co-captain and named to second team All State.