John Lewis highlights power of prayer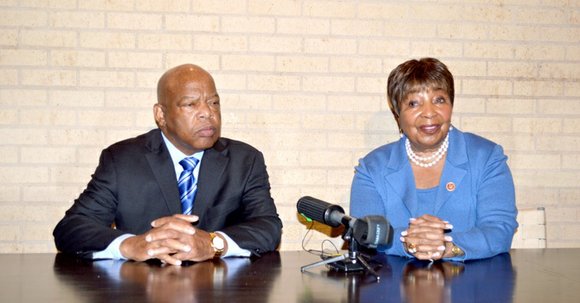 The Dallas Examiner
American politics and American history are virtually indistinguishable at times. A political decision may ignite a social movement, or an activist spirit may grow that, over time, alters the laws of the land.
On Feb. 24, Congresswoman Eddie Bernice Johnson hosted her 21st Annual Prayer Breakfast under the banner theme of "Prayer, the Foundation of Equality and Justice." Civil rights pioneer and Congressman John Lewis, D-Ga., gave the keynote address that allowed those who attended the event a rare glimpse into history and politics, co-joined and personified.
Johnson, who serves the 30th Congressional District of Texas, held the event at the Music Hall in Fair Park. She admitted that she felt there was no better time for her congressional colleague to appear in Dallas than the year marking the 50th anniversary of the passing of the Civil Rights Act.
"I thought it was important to have the icon that I served with, John – and the focus on Black History Month is rights – and where we are in the battle, what we need to do," Johnson explained. "So that's why we used the civil rights theme for this year's prayer breakfast."
Throughout the morning guests emphasized togetherness in creating a better society for all. Rick Hawkins, senior pastor at First United Methodist Church in Lancaster expressed his thoughts about the early morning meeting.
"This is a good opportunity for people to come together to find out what we can do to help change things. We know we need to create a better society and all of us are accountable to each other." Hawkins also said he was thrilled to be given the chance to hear Lewis speak.
"I think it is a tremendous time for us." Hawkins reflected on the sacrifices that Lewis and his contemporaries made.
"To see him, to find out more about him, because when we see what his life has been like, how he has overcome so much adversity, which makes it possible for all of us to overcome adversity," he acknowledged.
Former DISD school board member Robert Medrano remarked that the breakfast was a prompt for people to remain on the right civic and religious paths.
"Coincidental, it's early day voting … Even though it's separation of church and state it reminds us it's our good duty to do our efforts [in] government participation," Medrano said.
Pleased to see Lewis attending the breakfast, he addressed some personal history he had with both members of Congress.
"You've got a national leader like Congressman Lewis – my father had an opportunity to participate. He was with the United Auto Workers," he said. "My father marched with Congressman Lewis. Eddie Bernice named a post office after my dad, Paco Medrano."
In introducing Lewis, the congresswoman recounted some of the major moments in her fellow represenative's life: he was a keynote speaker at the 1963 March On Washington. He met with President Lyndon Johnson to help create civil rights legislation. She expressed that Lewis worked and suffered for the cause of equal rights, but in the end stood triumphant.