John Lewis highlights power of prayer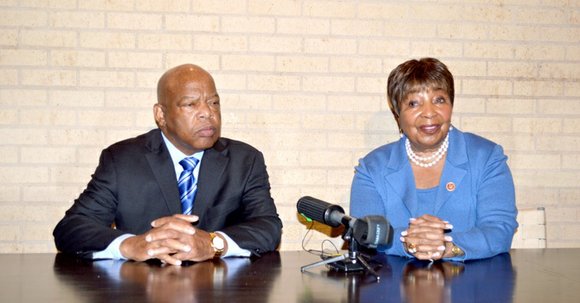 "This was a man who was beaten over the head and not discouraged," Johnson said, recounting the assault and arrest Lewis endured at the hands of Alabama state troopers during the infamous Edmund Pettus Bridge march outside Selma, Ala., in 1965.
Johnson praised Lewis as she announced, "It's not often that you can work every day with people who gave you the opportunity to even think about running for congress." She addressed the many elected officials scattered throughout the dining hall, admitting, "This person was a part of making sure that we could all hope, so we could run for anything."
The breakfast was about respecting the past and collectively creating a positive future, yet a good humor was also abundant.
Johnson talked about visiting Lewis in his office.
"You relive the Civil Rights Movement – all the pictures. He was a young man with hair." The statement was met with laughter from the audience as well as from Lewis himself.
Once the congressman took the stage he enlightened the crowd about how prayer fit into his life by giving them a glimpse into his life as an 8-year-old boy on a farm outside of Troy, Ala. His job on the farm was to raise chickens.
He related the tale of how he wanted to be a preacher when he grew up and, as practice, his cousins and siblings would gather the chickens into the yard where he would preach to them. He explained how some of the chickens would nod their heads, while some shook their heads. But they never said "Amen," he pointed out.
Even so, Lewis said, "The great majority of those chickens tended to listen to me much better than some of my colleagues in congress."
As the laugher of the audience died down, Lewis continued, saying he still found value in prayer.
"Without prayer, where would we be as a nation, and as a people?" He pointed out that whenever Congress is convened, a prayer is said. "If it hadn't been for prayer I wouldn't be standing here. Somebody prayed for me. Somebody prayed for you."
Lewis spoke of prayer getting him through the uglier times of the Civil Rights Movement.
"If it hadn't been for prayer I don't know what would have happened to me," he exclaimed. "Participating in the sit-ins in Nashville as a student. Going on the Freedom Ride. Injured, left bloody and unconscious. If someone hadn't prayed for me I would have died at the Greyhound bus station."
Lewis' thoughts on prayer culminated with his experience outside of Selma on March 7, 1965.
"I was knocked down, knocked unconscious, had a concussion on the bridge. I thought I saw death. I thought I was going to die. But the prayers of the righteous intervened," he admitted. "I truly believe that God saved me."
Lewis' remarks were positive, but pointed, as he shared his thoughts about where African Americans came from and where they are presently poised.
"We never gave up, and we never gave in. In spite of poll tax, literacy tests," he exclaimed. "Those hands that picked cotton were able to pick a president."
After the breakfast, the congressman was asked about the modern threat of voter suppression. Lewis replied that it was a fight he and Johnson were already involved with. She mentioned that Lewis sponsored a bill intended to assure that voting was modernized and accessible to all who could legally cast a ballot.
Lewis added his input about that bill, the Voter Empowerment Act of 2013.
"In the past, almost 50 years [ago], when President Johnson signed the Voting Rights Act – he signed it on Aug. 6, 1965 … The hope, dream and aspirations of the president is still our hope, and our dream, that the Voting Rights Act of 1965 would continue to be not just letters and words on a piece of paper, but become real."