VA medical center offers new solutions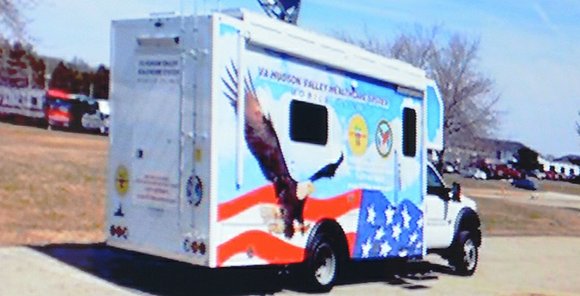 A tour of the $6 million Polytrauma Suite, an area of the hospital for outpatients with multiple severe injuries, offered a revealing look at physical improvements in the VA.
Free Wi-Fi is available for family members of patients going through therapy; brighter colors and more open space in the suite create a welcoming and homey emotional feel in contrast to traditional hospital décor.
The suite is filled with state-of-the-art therapy devices to assist in improving the gait, balance or hand-eye coordination of veterans who go through physical rehabilitation. The Telehealth center is an addition that uses clinical video technology similar to Skype. It allows veterans in rural areas who can't travel to the hospital improved access to health care by connecting with a physical therapist.
Yet, as the old saying goes, there is always room for improvement.
"My overall experience with VA has been favorable, for the most part," Danny Jordan, a resident of Southern Dallas who served in the U.S. Army from 1965 to 1977 conveyed his thoughts on the VA's performance. "I believe that some will never be satisfied, no matter how great the service may be."
However, Jordan has encountered some negative experiences.
"I can say that the people working at VA are not as polite as they were when I first started receiving service there about 16 years ago," he revealed. "When I initially started receiving service, the lab wait was usually about 15 minutes and I was seen by a physician an hour later. Now, it is a 2-hour wait between lab and doctor. The wait to get into the lab is a little longer and it is crowded. My wait to see my doctor is short."
Grigg addressed the need for further improvements, including the attempt to close the time gap between a patient seeing a physician and seeing a referred specialist. The VA had gotten that wait time down to 14 days, but slowly that gap has lengthened.
"In specialty care we've had some issues with staffing, turnover and scheduling, principally in optometry and urology," the doctor acknowledged. Part of the solution will come from the hiring of more staff.
Some of that hiring is done within the community, Milligan said. The Dallas VA employs about 570 doctors, 1,200 nurses and 4,669 staff on the campus overall, with 31 percent of the staff being veterans, he claimed.
Dr. Alina Suris, chief of psychology, took time during the meeting to address current and upcoming programs at the VA and what they could mean to veterans in South Dallas. She indicated that post traumatic stress disorder continued to be an area of intense focus for her department.
"Because we do research on PTSD here at VA North Texas our veterans have access to cutting-edge treatments that haven't been rolled out to the rest of the country yet," the doctor said.
Along with innovative trauma therapy a new outreach program will start soon in order to get more homeless veterans into stable housing. The Homeless Mobile Medical and Mental Veteran van should be coming out in "a month or so," according to Suris. It will go out into the community to serve the needs of disenfranchised veterans.
There are approximately 1,000 homeless veterans in the Metroplex. Of that number, "400 veterans are considered chronically homeless – continuously homeless for one year or more with a diagnosed mental or physical disability," according to the Metro Dallas Homeless Alliance.
The MDHA report, 2012 Point-In-Time Homeless Count and Census noted the homeless population in Dallas was 59 percent African American.
"The van is actually going to have psychiatrists," Suris said. "We're also going to have social workers on the van to help provide social services and discuss housing issues and provide other additional opportunities."
Basic lab work will also be done in the HMMM-V. The plan is to get veterans the health care they need, get them integrated into the VA and the larger society, the doctor said.
"So we're not going to go out there and tell them we're treating these symptoms; we're going to go out there saying 'How can we help you?'"