Blacks in the world of gaming, fantasy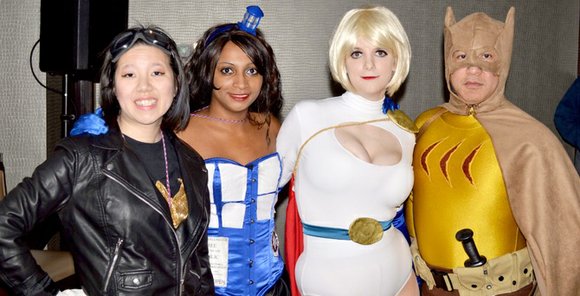 The Dallas Examiner
All-Con, a yearly celebration dedicated to all things nerdy, geeky and open to devotees of animation, fantasy fiction, cosplay, comic books and gaming of all kinds, was held March 13 to 16 at the Crown Plaza Hotel in Addison. Taken as a whole, this mixing of varied people and interests is often referred to as "fandom."
Taking on the topic of minorities in the media from the fandom perspective, amid the Technicolor fun and games of the convention, was a multi-ethnic panel of young cosplayers – or people who wear costumes to portray fantasy characters: Frank Hui, Hana Li, Callie Calypso and Ashley Easter.
"In African American culture there are no nerds. That just does not happen," Easter said as she addressed her fandom experiences. "If I say something like, 'Oh, I like Dr. Who, I like Firefly, I like Heroes,' they're like 'Why?' It's kind of an anomaly in my culture, and it's kind of disheartening, too.
"Within the entire sci-fi, superhero, fantasy world there's maybe like 20 characters that are Black. Out of that 20, maybe five or 10 are female," Easter noted.
To compensate, she said that she portrayed cosplay characters that were often of a different ethnicity than her own.
"I got a lot of backlash on that because there are certain accuracy Nazis that just don't think that that's right," she revealed.
Beyond costuming activities, the panel recognized that the fan/nerd subculture is becoming more and more mainstream. The financial power of the "nerd dollar" backs up their claim.
In Feb. 2013, Time magazine revealed that video game sales amounted to $9 billion in 2012, which was considered a bad year for the industry according to the publication. Two months ago, Microsoft's Entertainment and Devices Division reported its 2013 second-quarter earnings to be $10.2 billion. Diamond Comic Distributors announced that comic book sales during 2013 reached about $517 million in North America alone.
Though it has experienced more diversity in the last few years, the panel maintained that mainstream entertainment has the responsibility to be more diverse in their fandom projects and products.
Paradoxically, both the panel and many commentators from the small audience indicated a belief that economic success of fandom culture also helps to cement a status quo which limits the appearance of racial, religious and sexual diversity within the fandom marketplace.
Easter raised the point that the problem with entertainment media failing to keep up with its increasingly diverse fan base is a problem found in popular culture in general.
"A lot of representation of African Americans, and even Black people in general, we either get the Tyler Perry movies that are basically all the same movie," she illustrated. "The Black family is all ratchet and broken up, single mom. Dad is trifling. Grandma comes in to save the day – and somehow there's church involved," she said in a comment that drew laughs from the audience.
Slavery films and movies with a Black star but a White savior character were also common fare, Easter added.