Task force to revitalize the Black community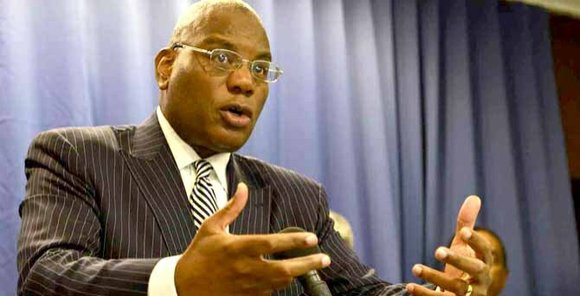 A study on justifiable homicides by the Urban Institute found that White-on-Black homicides are 281 percent more likely to be ruled justified than a Black-on-White homicide and in "stand your ground" states that disparity is greater.
In addition to being accompanied by other ministers, Holmes was flanked by parents of high-profile children personally affected by Florida's controversial "stand your ground" laws.
"['Stand your ground'] laws target Black males. Black and brown boys do not benefit from the 'stand your ground' laws," said Sybrina Fulton, the mother of Trayvon Martin, the unarmed Florida teenager who was profiled, shot and killed by George Zimmerman, a White Hispanic neighborhood watchman in Sanford, Fla., in 2012.
Fulton applauded the work of the new task force.
"It's bringing the conversation to the table. A lot of people don't want to talk about it, because it's an uncomfortable subject, but we need to bring it to the table, we need to talk about it, so that we can resolve these issues," she said.
Phyllis Giles, mother of Michael Giles, said that the role that the "stand your ground" law plays in court cases is unfair and often carries racial undertones.
In 2010, Michael Giles, a 26-year-old active duty United States airmen went to a Tallahassee nightclub with some friends. When a brawl broke out at the club, Giles was separated from his friends. Giles had a concealed weapons permit for a gun he had in his car. As he searched the raucous crowd for his friends, someone punched Giles in the face knocking him to the ground. Fearing for his life, Giles pulled out his gun and fired, striking his attacker in the leg.
Giles was arrested and charged with attempted second-degree murder. Witnesses supported Giles claim and his lawyers argued that he was justified in using deadly force. Even though the married father of three, who served two tours in the Middle East, didn't have a criminal record, the jury decided against him. Giles was convicted of aggravated battery with a deadly weapon that cost Giles his career and is serving a mandatory sentence of 20 years in prison.
Phyllis Giles said that it's important for the community to come together to address the disparities associated with the "stand your ground" law and Black ministers should lead the charge.
It starts in the church and it will end in the church and God will bring it all together, said Giles.
Ron Davis said that he hopes that Holmes' efforts lead to reforms in the "stand your grand" laws in Florida.
"If you don't file for 'stand your ground' you shouldn't get the benefit of 'stand your ground' in a self-defense case in the jury instructions," said Ron Davis, the father of Jordan Davis, the Jacksonville, Fla., teen who was shot and killed by Michael Dunn, a White computer programmer who objected to the volume of music playing in the SUV carrying Davis and his friends in November 2012.
Holmes' group also wants to make sure that aggressors in deadly altercations can't rely on murky "stand your ground" laws in court.
Like George Zimmerman, Michael Dunn claimed self-defense, but didn't rely on the "stand your ground" law in court. Davis said that shooters often go free, because of confusing instructions that judges give to juries in self-defense cases that include "stand your ground" language.
A bill that would amend the current law in Florida is slowly working its way through the Florida state Legislature. The bill seeks to clearly define who can use the "stand your ground" defense and would also allow law enforcement to set policies governing neighborhood watch groups.
Davis said that it's important that pastors get involved in the fight to repeal or repair "stand your ground" laws, because when Dr. Martin Luther King Jr. and the other pastors stood up in the 1960s, it really made a difference.
"That's why we don't have to drink out of the 'colored' water fountains, that's why we don't have to sit on the back of the bus," Davis said. "People forget that these were pastors getting their heads busted for better civil rights, so we need the pastors on the front line again."