Bill Clinton says voter ID laws undermine civil rights progress
George Curry | 4/18/2014, 9:51 p.m. | Updated on 4/18/2014, 10:28 p.m.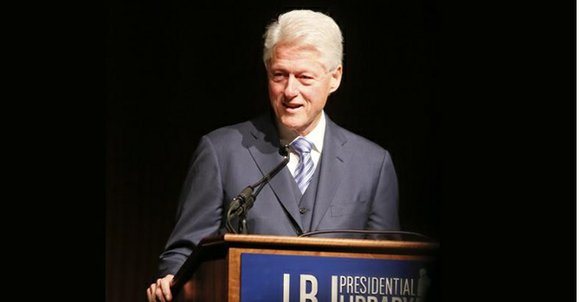 NNPA
AUSTIN, Texas – Former President Bill Clinton praised President Lyndon B. Johnson for signing the 1964 Civil Rights Act and the 1965 Voting Rights Act into law, but said the progress that stemmed from those landmark measures are being undermined by Republican-led efforts to suppress the vote.
"We're here because the Civil Rights Act and the Voting Rights Act made it possible for Jimmy Carter, Bill Clinton and Barack Obama to be president of the United States," Clinton said to loud applause during a speech Wednesday that was part of a 3-day celebration of the 50th anniversary of the 1964 Civil Rights Act.
Clinton said 10 states require some form of state-issued ID before allowing voters to cast a ballot. Last year, the U.S. Justice Department sued Texas and North Carolina over their voter ID laws, charging that the states undercut voter participation for Blacks and Latinos.
Other states, practically all led by GOP governors or Republican-controlled state legislatures, have erected barriers, including reducing the hours polls are open and cutting back on early voting.
Supporters of the ID laws say they are needed to curb voter fraud. But the Justice Department and civil rights groups said voter fraud is minimal.
President Obama and former presidents Carter and Clinton traveling to Texas to honor Johnson sends a strong message from a Democratic Party that has been at times conflicted about its legacy.
In his speech, Clinton praised the legends of activists, including Dr. Martin Luther King, former Mississippi State NAACP President Medgar Evers and others who lost their lives while fighting to hold America true to its founding principles.
Texas-born Johnson was vice president at the time John F. Kennedy was assassinated in 1963. He defeated arch-conservative Barry Goldwater in 1964 but after getting bogged down in the divisive Vietnam War, decided not to seek re-election in 1968.
Vietnam notwithstanding, Johnson was widely viewed as a master politician, even publicly stating that signing the 1964 Civil Rights Act would send White voters in the South into the arms of the Republican Party, which was virtually non-existent at the time in the states that formed the old Confederacy. History proved him correct. But history also showed that he lobbied for and signed into law three of the most important pieces of civil rights legislation in the last 50 years – the 1964 Civil Rights Act that outlawed discrimination on the basis of race, ethnicity, religion or gender; the Voting Rights Act of 1965, legislation passed after the Selma-to-Montgomery March that finally allowed Blacks to vote freely in the Deep South and the 1968 Fair Housing Act, designed to remove discrimination in housing.
Calling Johnson a "son of the South," Clinton described him as "a Texan bred with the state's outsized ambitions [who] saw limitless possibilities in the lives of other people like him, who just happened to have a different color skin.
"Just as Abraham Lincoln stewarded the 13th Amendment through Congress, Johnson's leadership embodies the power of the presidency to redeem the promise of America," Clinton said.
But that promise took a beating last year when the U.S. Supreme Court invalidated Section 5 of the Voting Rights Act, the provision that requires states with a history of discrimination to pre-clear any voting-related changes with the Justice Department or a federal court in Washington, D.C., before implementing them.
Clinton criticized the ruling that was decided by the court's conservative majority.
"Any time you erect a barrier to political participation [by people] … based on their race or their physical capacity or their income … it undermines the spirit of the Civil Rights Act and the Voting Rights Act," he said.
"It sent a signal throughout the country. We all know what this is about. This is a way of restricting a franchise after 50 years of expanding it … Is this was Martin Luther King gave his life for? These divisions and the lack of a spirit of coming together put us back in the dustbin of old history," Clinton explained. "We have too many current challenges to waste a day trying to recreate a yesterday that we're better off done with."