Eggs and Issues: Panelists offer government plans for region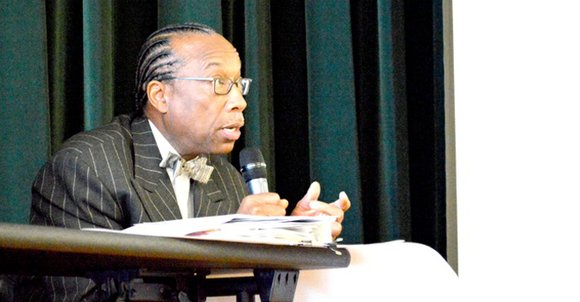 The Dallas Examiner
State Sen. Royce West of the 23rd District gathered government representatives together to discuss several issues affecting the community and plans for Dallas and Ellis County residents.
The Eggs and Issues town hall meeting took place at 9 a.m. on March 29 at the Curtistene S. McCowan Middle School in Glenn Heights.
The turnout for the breakfast meeting consisted of about 50 residents. U.S. Congressional Rep. Joe Barton of the 6th Congressional District, state Rep. Jim Pitts of the 10th District and District 3 Dallas County Commissioner John Wiley Price were among the notable panelists.
After the introductions, West started the program by discussing the features of education House Bill 5 which was signed into law in June 2013.
"In general, HB5 is basically a kind of rewrite to our accountability system in the state of Texas, where we now have a one-foundation diploma with different endorsements," West said as he talked about the somewhat controversial changes in state education. One significant change he spoke about was dropping Algebra II as a graduation requirement for students who would not be concentrating on a math or science degree plan in college and would allow students to have an individual education graduation program.
State Board of Education Trustee Mavis Knight shared her thoughts on HB5 during the meeting. She mentioned the feedback from the chairmen of both the House and Senate Public Education Committees for guidance on the Algebra II issue. Both committees wanted to drop the requirement.
"We listened to them," Knight said about the board's support in deleting the math element. "People are divided. There's no clear message as to whether or not Algebra II should be a requirement."
Taking the committee's advice was a deciding factor, she noted. Recommendations from education professionals were also factors in supporting the decision.
"We had people from the industry come to us and demonstrate to us courses that they had developed that used algebraic concepts that were germane to the career that that child would peruse," she continued.
According to Knight, the demonstrations were compelling because many of the concepts shown to the board related to the areas of certification. These were in turn associated to fields in which students could graduate from high school and go on to earn more than people with college degrees.
"I'm comfortable with the fact that Algebra II is no longer a state-wide requirement because there are alternatives that we can peruse for our students."
The concept of home rule and use of charter schools was also an issue that West tackled. The home rule charter concept would grant individual school districts the power to develop their own regulations on how their specific schools would function.
"Needless to say there's a lot of discussion concerning whether or not the Dallas Independent School District should be a home rule charter district," West stated. "Should there be any discussion on what we're doing in education? Yes. Frankly, last [legislative] session I moved with a couple of bills and basically talked about what we do with schools that were underperforming and the kids are being trapped in them." West linked the subject of improved school performance to the home rule idea.