Jimmy Carter: My life was shaped by 'Black culture'
George Curry | 4/18/2014, 9:47 p.m. | Updated on 4/18/2014, 10:29 p.m.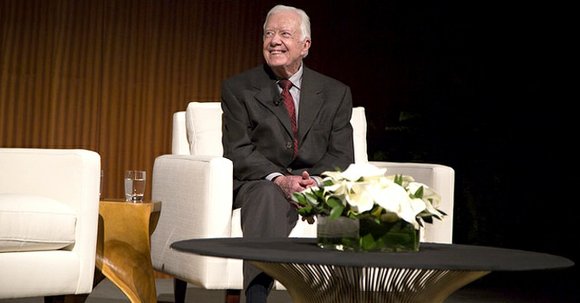 NNPA
AUSTIN – Although he grew up in a rural farming community in Georgia during an era of rigid racial segregation in the 1920s and 1930s, former President Jimmy Carter said his life was shaped at an early age by "Black culture."
The nation's 39th president made his comments Tuesday night during a conversation at the 50th anniversary celebration of the Civil Rights Act of 1964, landmark legislation signed by President Lyndon B. Johnson that outlawed discrimination against racial and ethnic minorities as well as women.
Former presidents Carter, Bill Clinton and George W. Bush along with President Barack Obama made individual presentations over a three-day period at the Lyndon B. Johnson Presidential Library on the campus of the University of Texas.
Instead of a formal speech, Carter was seated on stage with Mark K. Updegrove, director of the presidential library, for an hour-long discussion on Carter's early life and his presidency.
"I grew up in a little village, unincorporated named Archery, Ga., just a few miles west of Plains," Carter recounted. "… We were surrounded by 55 other families who were African American. All of my playmates, all of my companions in the field – the ones I hunted with, fished with, wrestled with, fought with – were Black people."
With no hint or braggadocio or regret, Carter stated mater-of-factly, "My life was really shaped – perhaps as much as any other White American who ever lived – by a Black culture. My daddy was a full-time worker away from home, my mother was a registered nurse and she was on duty 20 hours a day. She got off at night at 10 o'clock and she came home and washed her uniform, took a shower, and left me and my two sisters instructions for the next day, then she went back on duty at 2 o'clock in the morning. She spent 20 hours [working]."
Carter said he and his two sisters weren't abandoned by their parents.
"So, I was left home a lot with African American women who my father had hired to take care of us children," he recalled. "So I learned to appreciate, you might say, Black culture. When I wrote a book called Hours Before Daylight, at the end of the book, I tried to think of five people other than my parents who had shaped my life and only two of those five [a teacher and his grandmother on his father's side] were White."
Carter graduated from the United States Naval Academy in 1946 and went on active duty, serving mostly on submarines. When he joined the Navy, it was segregated but that changed within two years.
"It was during the time I was in the Navy that Harry Truman ordained in 1948 that all the military forces would be free of racial segregation and this was one of the most courageous political acts that I knew about at the time because it was a very unpopular thing for him to do. But I saw first-hand how Blacks and Whites should live and it was better for both of us to live as equals."