Jimmy Carter: My life was shaped by 'Black culture'
George Curry | 4/18/2014, 9:47 p.m. | Updated on 4/18/2014, 10:29 p.m.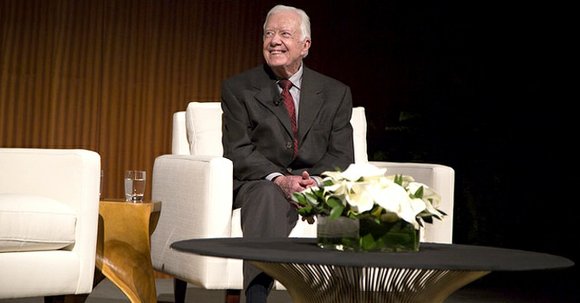 Upon his discharge in 1953, Lt. Jimmy Carter returned to Plains, Ga., and in many ways, it remained frozen in time. He and his wife of seven years, Rosalynn, operated Carter's Warehouse, a seed and farm supply company.
"I was then emerged in a segregated society more moderate or liberal than my neighbors were," he stated. "We had a boycott against my business. I remember one time I drove up in front of the only service station in Plains and they refused to put gasoline in my car because they considered us to be – I won't use the word – lovers of Black people."
That reputation would follow him when he was elected governor of Georgia. Carter was sworn in on Jan. 12, 1971. In an 8-minute speech, he immediately signaled a new era of race relations in Georgia.
"I've traveled the state more than any other person in history and I say to you quite frankly that the time for racial discrimination is over," he said at his inaugural address. "Never again should a Black child be deprived of an equal right to health care, education or the other privileges of society."
While in the governor's mansion, Carter saw Lyndon B. Johnson as another profile in courage. He was impressed that Johnson, a fellow Southerner, pushed for and signed the 1964 Civil Rights Act, knowing it could hurt him politically.
"Lyndon Johnson came along with his great insight and political courage and wisdom and tenacity and literally changed my personal life and lives of everyone in America," the former president said.
To get elected, Carter visited every area of the state. It was that same dogged tenacity that paved the way for him to become elected president of the United States in 1976, defeating incumbent Gerald Ford, who had been elevated from vice president to replace Richard M. Nixon follow the Watergate scandal.
Carter is the only U.S president who has lived in public housing. He created the Department of Education and the Department of Energy. Unpopular after one term, Carter lost to Ronald Reagan in 1980.
When asked if much has changed in civil rights in the recent decades, Carter responded with a resounding "no," perhaps his quickest reply to a question all evening.
"We kind of accept self-congratulations about the wonderful 50th anniversary. Which is wonderful but we feel like, you know, Lyndon Johnson did it. We don't have to do anything anymore. I think too many people are at ease with the still existing disparity."