The Climb to Victory: Oak Cliff native heads men's NCAA national championship team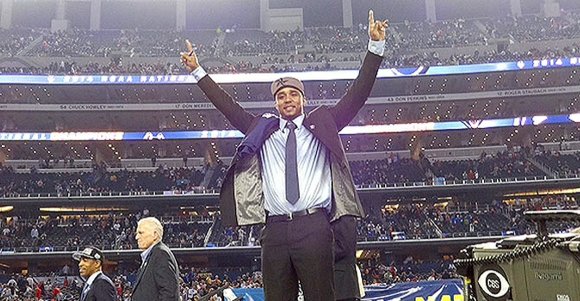 The Dallas Examiner
Once again, an Oak Cliff native made history, winning one of the most prestigious trophies in college sports in North Texas on April 7 at AT&T stadium in Arlington.
UConn's head men's basketball coach Kevin Ollie, born in South Oak Cliff, became one of only four African American coaches to win the NCAA Division I Men's Basketball Championship when his Connecticut Huskies team defeated the Kentucky Wildcats 60-54 to claim the 2014 title in front of the largest crowd ever to witness a college basketball game.
That day, 79,238 fans also got to witness one of the biggest upsets in college sports as the Huskies became the first No. 7 seed in the tournament to win the National Championship, knocking off the No. 8 seed, Kentucky Wildcats. The Huskies also became the lowest seed to win the National Championship since No. 8 Villanova did it in 1985.
"Somebody told me we were Cinderellas and I was like, no, we are UConn basketball," Ollie said. "This is what we do. We are born for this. We are bred to cut down nets. We're not chasing championships, championships are chasing us."
This title marks the fourth National Championship for UConn men's basketball as they also won titles in 1999, 2004 and 2011. Ollie is also the first coach to win the National Championship within his first two seasons as a Division I head coach since Michigan State's Steve Fisher did that in 1989.
"We got four now and coach Jim Calhoun started a tradition and my whole coaching staff is from UConn," he said. "We have all been through the same things. We love this university and put this university first. It's always family first with us and they kept believing. I told you, a lot of people were picking against us and doubting us. But I told you, the last would be the first. We are first now. Last year, we were last. We couldn't get in the tournament, but they kept believing. That's what it is all about. You believe. I have a strong faith in God, and God is always going to make a way out of no way. And He made this way and He gets all the glory."
The Huskies were led by guard Shabazz Napier, who scored 22 points with six rebounds and was named the game's most outstanding player.
"From the beginning, coach Ollie told us that we have a chance to be on the top if we worked hard," Napier said. "He always told us that. We always knew that the words were 'if we work hard.' We wanted to be on top. We wanted to feel like we were the champions and there were times when we were down and guys were picking us up.
"I remember telling these guys after we lost our first home game against Louisville, 'everybody, pick your head up.' At the end of the day, I said, 'we are going to be the team that's going to be holding up that trophy. I promise you that.' And it's so surreal that it actually happened. We were in the podium and I told everybody, 'Look at me.' I said, what did I tell y'all when we lost against Louisville at home? And everyone was like, man, you said we were going to hold that trophy. And I was like, man, we're the best team in the country. It's not the Shabazz show. No, I don't need to be recognized. They understand that. It's the University of Connecticut Huskies. We went out there and proved it."