The Climb to Victory: Oak Cliff native heads men's NCAA national championship team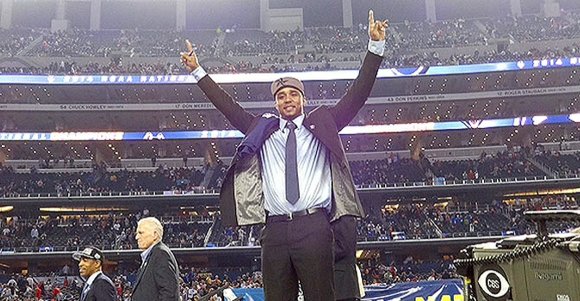 The journey to winning a National Championship was a bumpy ride for Ollie. He took over the reins of UConn basketball after the retirement of legendary coach Jim Calhoun. Ollie first served as an assistant coach under Calhoun, before being named the 18th head coach for UConn men's basketball.
In Ollie's first year as head coach from 2012-2013, UConn was banned from post-season play by the NCAA due to academic shortcomings from past years, particularly season 2010, where they had a low Academic Progress Rate score. In addition, he had to deal with a depleted roster that had some players transfer or enter the NBA early. Despite all this, Ollie was able to guide the Huskies to a 20-10 season. His efforts in his first season as head coach led him to receive the Ben Jobe National Coach of the Year award, an honor given to the best Division I minority coach who overcame obstacles and produced excellent results. The award is given by Collegeinsider.com.
"As the seconds were ticking off the clock, I was looking at coach Calhoun and my thought was this: He paved the way," Ollie said. "He's my second father. If he didn't believe in me, I don't think I would have this job. I really believe that. From day one, he wanted me to come back to the University of Connecticut and sit on his seat when it was time for him to move on. He taught me so much, not only on the basketball court, but also how to be a great husband, how to keep your family involved while you are still doing your day-to-day job as a coach. I learned that from him.
"He's right there beside me. I told you I'm just not filling his shoes. I can't fill his shoes. But man, he's just a great resource for me, to have a Hall of Fame right there and a person that loves and believes in me when a lot of people didn't, when a lot of people were questioning me for this job, he never did and I thank him to death for giving me this opportunity to be up here and hoisting up a National Championship, a fourth National Championship and it feels great."
The journey to the promised land was a unique ride as well. This past season, his team finished 32-8 overall and was granted entrance in the 2014 NCAA tournament where they were given a seventh seed in the East bracket. The Huskies defeated St. Joseph in the first round, 89-81, and then knocked off No. 2 seed, Villanova 77-65. Then they defeated number No. 3 seed Iowa State 81-76 in the sweet 16. In the elite eight, the Huskies defeated No. 4 seed Michigan State, 60-54. In the Final Four, Kevin stunned the world when his squad defeated the No. 1 overall team in college basketball, the Florida Gators, 63-53, who many experts predicted would win the entire tournament. In the national final game, the media focus was mainly on the Kentucky Wildcats' star-studded freshman starting lineup with players like Julius Randle of Dallas, twin brothers Aaron Harrison and Andrew Harrison of Richmond, Texas, James Young of Rochester Hills, Mich., and Dakari Johnson of Brooklyn, N.Y.