Liberian flag, promotes hope for the economy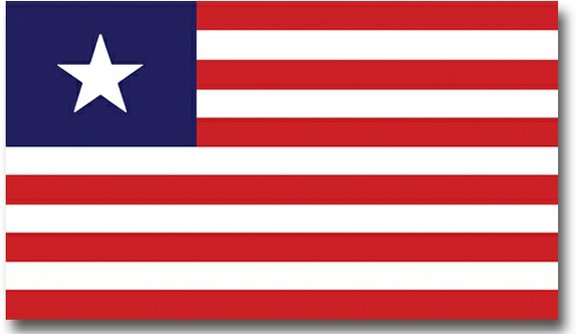 The Dallas Examiner
Representing hope for the economic future and future endeavors between Liberia and Dallas, the Liberian flag now hangs in Dallas City Hall's Flag Room.
The Honorable Munah E. Pelham-Youngblood, a native Liberian and congresswoman representing Liberia's ninth district in Montserrado County, visited the city of Dallas last October. Upon entering the Dallas City Hall Flag Room, she noticed that her country's flag was not represented among all of the flags along the wall. Thus, she vowed to return to the city to bring it. Councilman Dwaine Caraway also noted that he didn't see the flag in the room after he met Liberia's president, Ellen Johnson Sirleaf, last year.
On April 4, she returned to present the flag in a dedication ceremony, as a symbol of future business partnerships between Dallas and Liberia.
Pelham-Youngblood, who became the nation's youngest elected lawmaker in October 2011 when she secured a House seat in the 53rd Legislature, is a former beauty queen, model, fashion icon and entrepreneur. She is a member of several standing and statutory committees including foreign affairs, gender and child development, youth and sports, public utilities, and banking and currency. She also serves as co-chair for the National Affairs of Women's Legislative Caucus.
Caraway then gave a brief account about his visit to Abuja, Nigeria, in 2010 to observe the inauguration of Nigeria's current president. A senator from the country had invited him to attend. He detailed that seeing widespread hardship and means of opportunity in the country inspired him to promote international relationships between the United States and West Africa.
"It gave me an opportunity to try to figure out what is it that I could do to make sure that we stay together and we share the opportunities of each land," Caraway said.
He added that the city is currently working with DFW International Airport to establish direct flights to and from Africa in order to foster more exchange between the two locations. Furthermore, he indicated that his trip to Nigeria encouraged him to accept an invitation to visit Liberia later this month.
In her speech, Pelham-Youngblood highlighted the relationship and similarities between the United States and Liberia before inviting businesses to invest in her country.
"What can I say to you about Liberia that Americans have not already endured? From poverty to war, rags to riches, and that we are constantly seeking improvement? Liberia and the U.S. have a great, connected history and so much in common. We both have track records of doing things first, and we both have history of making history," Pelham-Youngblood said.
She first mentioned that freed African American slaves and freeborn African Americans colonized Liberia starting in 1820. In 1847, the settlers issued the Liberian Declaration of Independence and adopted a constitution similar to that of the United States.
Liberia has three branches of government: executive, judiciary and legislative. In 1862, the United States officially recognized the country as an independent state.
Next, she stated that the country's pledge of allegiance is similar to that of the United States, only replacing the words "United States" with "Republic of Liberia." She went on to say that the country's capital – Monrovia – was named after the fifth U.S. president, James Monroe, and that the country is divided into counties and not regions, like in most African nations.