Liberian flag, promotes hope for the economy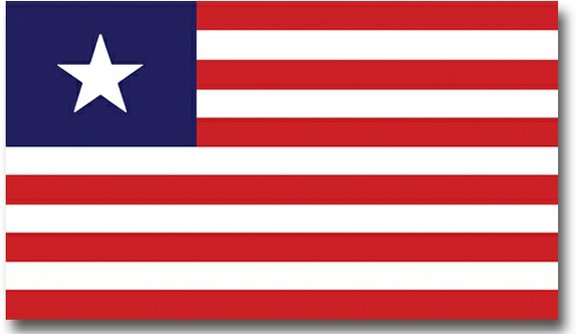 Pelham-Youngblood then pointed out that the Liberian flag, called the "Lone Star," is similar to Texas' nickname, the "Lone Star State." The flag, which looks like a hybrid between the Texas and U.S. flags, is red, white and blue.
In 1847, the people of Liberia adopted a slight modification of the flag.
Now, it has one white star, which signifies Liberia as being the first African independent republic, surrounded by a blue field, which symbolizes the continent of Africa and loyalty. Previously, it had a white cross that resembled that of a medical cross.
There are now 11 stripes – six red and five white – that represent the 11 signatures on the Liberian Declaration of Independence. The red depicts fearlessness and the white, purity. The older design contained 13 stripes.
She explained that during WWII, Liberia joined the Allied Powers, and was a founding member state of the United Nations. Until the 1990s, the country and the United States held very close diplomatic, economic and military ties.
Moreover, the Liberian dollar is the country's official currency; however, the U.S. dollar is also accepted legal tender. The official language is English and is spoken by 90 percent of the population – 3.9 million people. Liberians speak over 30 other indigenous languages, and English names such as Allen, Cooper, Kennedy and Montgomery are common.
The congresswoman also stated that after 14 years of civil war, Liberia has celebrated 10 years of sustained peace. It is the first African country to elect a female president.
In the last part of her speech, Pelham-Youngblood described the resources that Liberia has to offer, as well as the business sectors investors can invest in. She mentioned that the nation's wealth included gold, blue diamonds, iron ore, freshwater, nitrogen-rich soil and evergreen forests, and were the reasons why the country was currently hosting some of America's largest companies, such as Chevron, Exxon Mobile, Coca-Cola, Firestone Natural Rubber Company and Delta Airlines.
Investors, she indicated, could potentially invest in these industries: agriculture, fishery, forestry, energy, electricity, water, transportation, health, low- and middle-income housing, tourism, infrastructure development, telecommunications, communications technology, banking, waste management, recycling, entertainment, education and mining. Furthermore, she iterated that the Liberian government was offering tax deductions for up to 30 percent if investors used locally grown materials, placed investments in economically depressed regions, and/or created jobs.
After encouraging audience members to visit Liberia, Pelham-Youngblood displayed the Liberian flag. Following that, Caraway presented her with a proclamation.
Lee McKinney, assistant director of the city's Economic Development office, gave closing remarks and prompted audience members to take advantage of Liberia's opportunities for enterprise. Dr. Remigus Ihekwaba, president of the West Africa Texas Chamber, and Stanley Gaye, president of the Liberian Community Association of Dallas/Ft. Worth, expressed similar sentiments. Regina Hill Onyeibe, the city's African liaison, served as the mistress of ceremony.