What all women need to know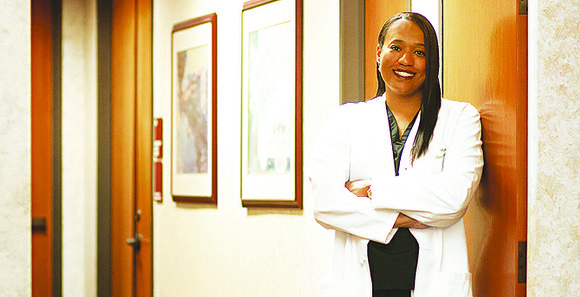 The Dallas Examiner
The face of medicine has dramatically changed through the advances of science and technology. And though modern medicine has improved the overall health and lengthened the lifespan of American women, there are still major health disparities in the African American community.
The first step in decreasing those disparities is knowledge of the human body, its diseases and when to see a doctor. Many symptoms that people think are normal can be treated and many life-threatening diseases can be prevented.
In an effort to educate and update women about important health issues they need to be aware of, Dr. Melanie Belt was invited to speak during the third lecture of the Women's History Month lecture series at the African American Museum.
Belt, an obstetrician/gynecologist, has only been in practice for seven years, but is already a managing partner at Austin Regional Clinic. She grew up in Oak Cliff and has had a passion for women's health since she was a young girl.
"For the third lecture, we wanted to present a young emerging leader who is successful in their field and who was homegrown," said Harry Robinson Jr., the museum's president and CEO. "We just felt that we needed to give young people a chance and wanted to do something to recognize them."
Since 2012, Belt has been listed as a "Rising Star" in Texas Monthly magazine's annual publication of Super Doctors.

"It is definitely an honor to come back home and share some of the knowledge that I attained over the years to give this lecture," she said.
Prevention and tests
During the lecture, Belt shared information about current trends in women's health.
"There are a lot of things that have changed in women's health over the last several years that most people just don't know," she said. "Patients come into my office and I just think, 'Wow, how did they just not know this?' and by that time, it's too late."
There are many diseases and disorders that can be treated effectively, if caught in time, but many women – especially Black women – wait too long to seek treatment. It is important to have regular gynecological check-ups and women should start making their gynecological health care a priority during adolescents.
"I want to start off with adolescent needs since the American Congress of Obstetricians and Gynecologists changed the Pap smear guidelines," Belt said.
A Pap smear is what the medical profession uses to screen women for cervical cancer by placing a speculum inside the vagina and observing the vagina and cervix for abnormal cells.
"A Pap smear is something that a woman should get and the whole reason is it prevents morbidity and mortality from cervical cancer," she said. "Being rarely or never screened is the major contributing factor to most cervical cancer deaths today. Basically, that's us, minorities; we are the ones who are rarely or never screened. Also, people from lower socioeconomic status and more and more people who are living in the U.S. for less than 10 years also fall into this category. People who just don't have health care also follow into this category."