Monday Night Community Conversations - Dallas' Education System
The Dallas Examiner | 4/25/2014, 2:42 p.m.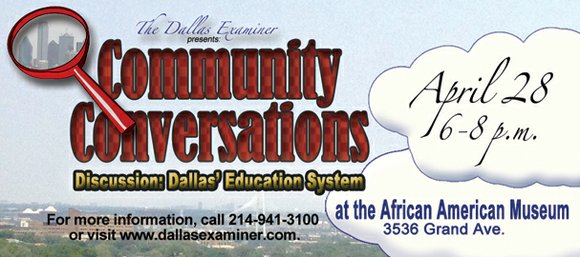 The Dallas Examiner will host Monday Night Community Conversations on the last Monday of each month. It's not a forum. It's not a lecture. It's not a workshop. It's a conversation with the community regarding issues of concern for the African American community.
The Dallas Examiner began planning these conversations last year. Due to scheduling conflicts, the conversations were postponed. But its back on track! All that's needed now is for you to plan to be in attendance, and ready to give your input on the top of the month.
This month, the topic is: Bridging the Generation Gap
All meetings will take place at the African American Museum, located at 3536 Grand Ave. from 6 p.m. to 8 p.m.
This conversation is past due!
For more information, call The Dallas Examiner at 214-941-3100