A 500 year journey, yet many more rivers to cross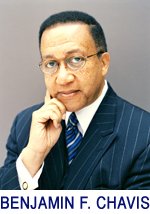 (NNPA) – Today, the long travail and struggle of African people to gain freedom, justice, equality and empowerment remains both a historic challenge and an unprecedented opportunity. In particular, for more than 45 million Black Americans, the struggle continues in 2014 for equal justice, ending poverty and sustainable economic development.
One of our most prolific historians and Harvard University scholar, Henry Louis Gates Jr., has made an outstanding contribution to promote a global understanding of the overall impact of the history of Black Americans in America. Gates' recent award-winning, six-hour PBS television documentary, African Americans: Many Rivers to Cross, continues to be successful in raising the consciousness of all people about the suffering and the triumph of Black America.
Many Rivers to Cross documents in vivid storytelling the 500-year journey of Africans and African Americans who endured the holocaust of the transatlantic slave trade and centuries of racial oppression and exploitation. I credit Gates for creatively exhibiting his unique genius in presenting historical facts about Black America while preserving the dignity of our humanity amidst the continuing struggle for freedom.
Each year the United Nations designates March 25 as The International Day of Remembrance of the Victims of Slavery and the Transatlantic Slave Trade. The UN official statement explained the purpose of this annual observance: "It honors the lives of those who died as a result of slavery or experienced the horrors of the transatlantic slave trade. It is also the occasion to raise awareness about the dangers of racism and prejudice."
Far too few Black Americans are aware that March 25 is observed in that manner. Consequently, we have some homework to do to keep Black Americans and all Americans better informed about the current realities of racial injustice as well as putting dates such as March 25 on our annual calendars for recognition and related social action.
Several days ago marked the 50th anniversary of the passage and signing of the 1964 Civil Rights Act. President Obama attributed his election to enactment of the Civil Rights Act. Beyond that, there is no question that during the past five decades, there has been significant progress toward racial justice in America and in Africa. But let no one be fooled. There are active attempts today to erase that progress.
There are still many more rivers to cross. There are still many more battles to fight nonviolently for freedom. Specifically, the voting rights of Black Americans are being threatened again this year by Republicans that are determined to suppress the Black American vote. Why? Look who is in the White House and you will find the answer. In nearly every courtroom across the nation, you find a persistent disproportionate incarceration of Black Americans as if the system of justice has become a system of racial injustice.
Gates noted in his profound documentary that the size of the Black middle class has increased over the years, but there is still a devastating economic disparity between Blacks and Whites in America. Gates stated, "I wanted to reflect the true temper of the times: The Black middle class has quadrupled, yet there are still so many terrible things affecting the Black populations."