A 500 year journey, yet many more rivers to cross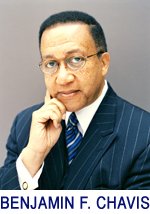 Progress is measured not just by statistics. Human progress ultimately is measured by how the quality of life of a community or of a people has been improved. Too many of our people are drowning in the deep rivers of poverty and financial insecurity. Too many of our people are still victimized by the resurgence of racial hatred and violence as exemplified in the murder of Jordon Davis in Florida.
Still, I am optimistic. I am optimistic because these troubled waters are not new and the rapid currents of injustice are not permanent. Our collective resolve has to be strong even in the face of the powerful forces of backwardness and retrenchment. Relenting to the evils of racism and inequality is not an option. In the words of Rev. William Barber II of the North Carolina NAACP, "We need a movement. We need a national moral movement to change America."
More than 100,000 people have responded to Barber's call for a "moral movement" in his home state and throughout the nation. I am optimistic because I now see grassroots leaders such as Barber and others emerging to speak truth to power in a manner that mobilizes Black Americans and all people once again to continue to struggle and to press forward for more progress for equality. Yes, we have more rivers to cross. Let's get busy.
Benjamin F. Chavis Jr. is president of Education Online Services Corporation and the Hip-Hop Summit Action Network.